If you are planning to get a tattoo, there are numerous factors that you must consider to ensure that you get a design you won't regret later on. One of the most important of these factors is the meaning of the design.
You should take the time to think about the design, the color combinations, and how these relate to something you care about. Always keep in mind that a tattoo is something that will be with you for the rest of your life. This is why you should be 100% sure about the design before you decide to have it inked on your skin.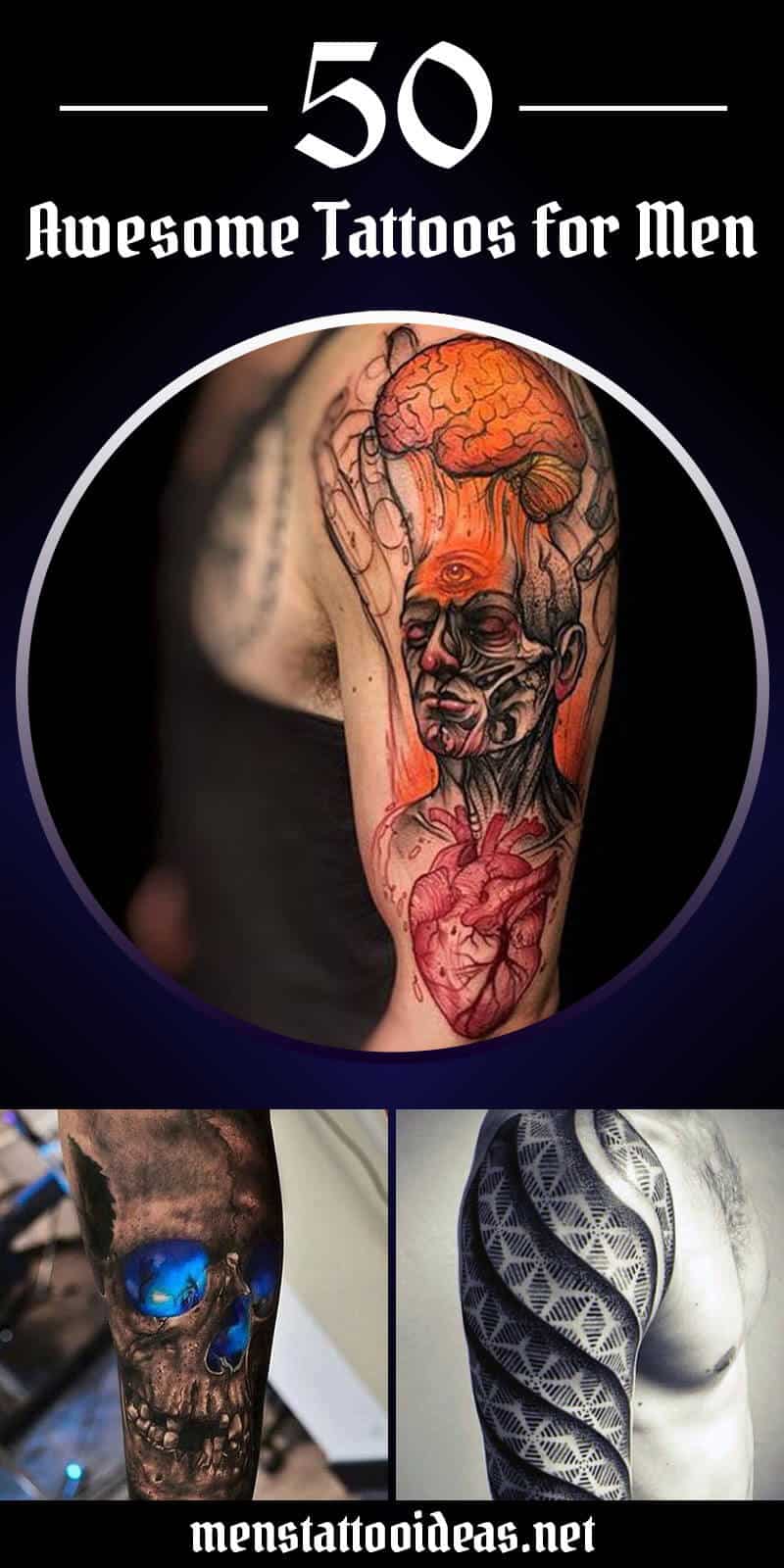 Popular Awesome Tattoos for Men
If it's your first time to get a tattoo and you don't have any clue on what design to get, the following awesome tattoos for men should help you come up with great ideas.
Lion
Designs featuring the face or outline of a lion has always been popular for several reasons. First of all, it's the ultimate symbol of maleness. The lion conveys courage, pride, strength, and royalty. It can also allude to being a great and indomitable leader. What's great about lion tattoos is that they look awesome no matter what part of the body they're inked into.
Wings
Getting inked with wing designs especially in the back of the body is very popular among men because of what the wings symbolize. For the most part, wings are associated with spiritual or inspirational symbolism. It means you are independent and free. Nothing can stop you from soaring to heights you dream of.
Spartan
If you're looking for a tattoo design that speaks of masculinity, then the Spartan is something you should seriously consider getting. The ancient Spartans have always been considered as among the greatest warriors to ever walk the earth. The designs would look great on anybody.
Tribal
Tribal tattoos have always been popular because of their cultural history and relevance. These are rooted in traditions and cultures. Their designs never go out of style. The designs and interlocking patterns grab attention. Tribal tattoos look best when inked on the arms, chest, or back.
Science-related themes
Designs inspired by science are among the most awesome tattoo ideas for men. There's just so much material you can choose from the fields of geometry, biology, zoology, and even geology. Science-inspired tattoos also imbue intelligence, reasoning, and comprehension. They can be great conversation pieces. They are unique so they stand out from all-too-common tattoo designs.
Deciding on the Best Awesome Tattoo for Yourself
Getting a tattoo is a decision that will stay with you for the rest of your life. With that said, it's very important that you mull over the design before you have it inked on your body. The awesome tattoos for men discussed above should only serve as an inspiration. You can always tell your tattoo artist to modify the design based on your personal preferences.
Imaginative Examples of Awesome Tattoos for Men
This anatomy tattoo covering the left side of the man's upper arm shows a full face with line drawings of eyes, nose, mouth, and chin. The brain is plucked out upwards by a pair of hands. Below the neck, the heart is perched, just touching the elbow bend.
In this 'infinity' type tattoo, a snake is putting its tail into its own mouth. The infinity sign, formed by the dark and white cross stitches of the scaly skin, looks like a spectacle for a pair of eyes, and the design is spectacular.
In the triangular interior of a knight's shield, there is a single eye from which teardrops are falling. It looks as if the knight has inscribed the sad and soulful eye of his lady love, instead of the usual cross.
This scary but awesome tattoo design is a skull-face, with gorged out eye region filled with blue fluid, broken denture and gashing gaps on the skull top. It seems to be imprinted, starting from the outer side of one's thigh continuing down to the calf region.
Printed knee downwards, the eye-catching tattoo is like three-part stockings ending in a zebra face. It is of the geometric type with wavy and mirroring triangular tribal patterns in the top two parts, with a V-cut on top.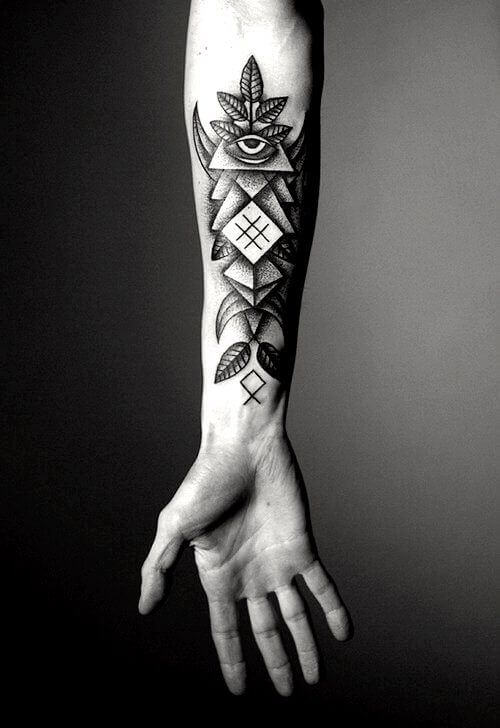 This rune tattoo with leaves and multidimensional geometric patterns, is supposed to have symbolic and mystic meaning. Runes are supposed to be powerful on correct invocation and could bring luck by just being imprinted, even without specifically asking for it!
It is an awesome tattoo idea to go back in time to pick up Edison's gramophone to put on one's own back. One can see the turntable with its playing arm and there are the old vinyl records too.
The colorful combination of globes and mythology based animal-men attired in pharaoh type costumes make awesome tattoos for guys. The long noses are curved on the right leg tattoo while the left leg creature has straight nose and horns.
More tattoos ideas on the next page…