This is perhaps one of the most appealing tattoo ideas for men. It presents an aged, lonesome wolf who rests his paws on the skull of the hunted deer. It is an ultimate statement of pride; pride in the trophy gained, or of being a true survivor.
The tattoo depicts a she-wolf ornamented by the crescent moon jewelry. The colors are a real star here: it is almost as if they're randomly splashed; splashed to take whatever form they desire, whatever he who carries the tattoo embodies. And in this case, the colors splashed into a she-wolf's head outlined by the shape of the heart.
The strength of this tattoo derives from the juxtaposition of the innocence of the rose, and the wolf's ferocity. It is indeed strange how something as delicate as the flower can coexist with such untamable natures.
Why all wolfs have to be scary? This tattoo offers one of the more mild depictions of them. It's all about the color, as the violet hues blend into blue. There's even a suggestion of a moon right there in the background.
Wolves are extremely loyal creatures; loyal to their pack, loyal to their mating partner. Choosing to tattoo one wolf on each leg is the symbolic representation of such a bond.
If anywhere the art of minimalism shows its true value, it would be here. The forearm is the host of a running wolf, presented by its mere outline. Though the detail is scarce, or indeed because of it, the sense of absolute freedom dominates the scene. We're invited to fill it in.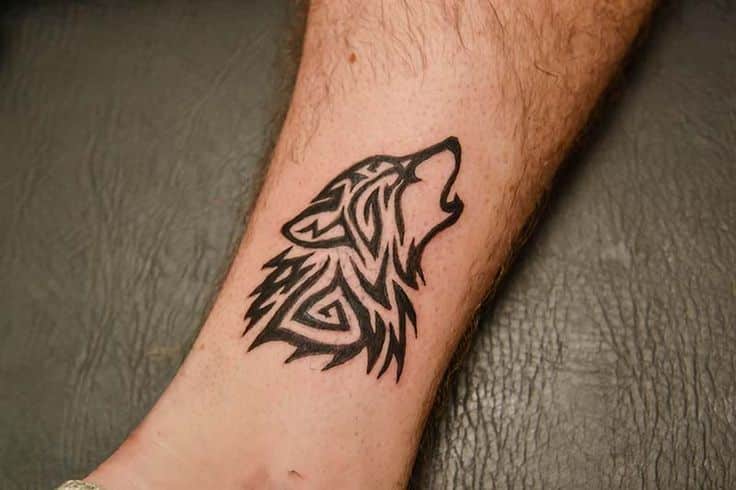 This is another minimalistic portrayal of the wolf, but this time with a distinctive touch to it. A howling wolf is given in an intricate web of tribal strokes that, according to the Native American culture, give rise to the warrior's identification with these animals, invoking their spirits.
Yet one more cute wolf portrayal; but this time, the tattoo takes shape of the splattered color forming the face of a wolf cub. There's an air of innocence to it, as the wolf is still young. But wait until he grows up.
People have always cast envy glances towards wolfs. Why? For the reason that they perfectly embody that which we have always sought to achieve – freedom. This tattoo, with its clouds looming above and the wolf posturing naturally, makes an attempt to portray the very essence of freedom.
The sketchy lines of the tattoo give it a rather unusual look – that of a print. It is as if the wolf is indeed sewn into the skin, rather than tattooed onto it.
[the_ad id="18525″]