A tattoo which looks like the yin and yang symbol, because we can see how opposite forces, like dark and bright, can be complementary. It looks great on the forearm, on the chest or on your back.
Two waves perfectly combined inside the infinity sign, a tattoo that symbolizes eternity, empowerment and everlasting life. It is beautifully drawn and it fits almost everywhere from arms and to the back.
This tattoo looks great and in the same time the waves look commanding and unfriendly, but the tattoo is really awesome. It can match on your forearms, on your back, on your chest and on your legs.
Big means imposing, especially when we talk about a big wave. You can choose this tattoo, especially if you are a secretive, mysterious and creative man who loves the waves, the seaside and color black.
This tattoo is a simple, small, black wave, which is not so impressive and grandios as the other tattoos, so it suggests insecurity, hesitation and a bit of fear. It looks good, even if it's simple, so the wave tattos idea usually fits better on a man.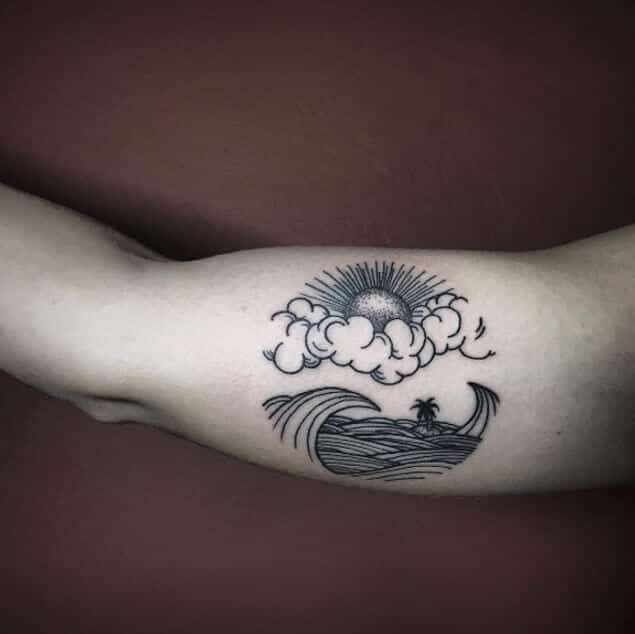 This is another one of the tattoos ideas that a guy may love. This is a black and white upper arm tattoo where three things are visible – the shining sun between clouds, the sea waves, and a tree on an island in the middle of the sea. Artwork is creative and looks decent.
It is a forearm wave tattoo that has played with multiple bright colors and shown a crazy wave movement. The blue color has been chosen for the main artwork of the tattoo to keep the similarity with water. Purple is used for bright highlights.
Another black and white wave tattoo design, placed near the calf area. The waves along with sea bubbles are visible in the tattoo. An orange and yellow colored flying kite has given the tattoo an extra edge.
This is a black and white with a tinge of blue circle shaped tattoo, placed in the calf area near ankle. Waves directed towards multiple directions are visible in the tattoo. Numerous lines and deep highlights have made the tatoo attractive looking.
A black and white tattoo of seawaves, bubbles and a big whale covers the entire back excellently. The underneath of the sea is visible in the tattoo. It is a big tattoo with detailed artwork and highlights.
More wave tattoos for men on the next page…