This vivid abstract tattoo starts with a tight circle of yellow and orange and then circles outward into loose, soft strokes of green and blue. The blue stroke lines look as though they have a feather like texture to them.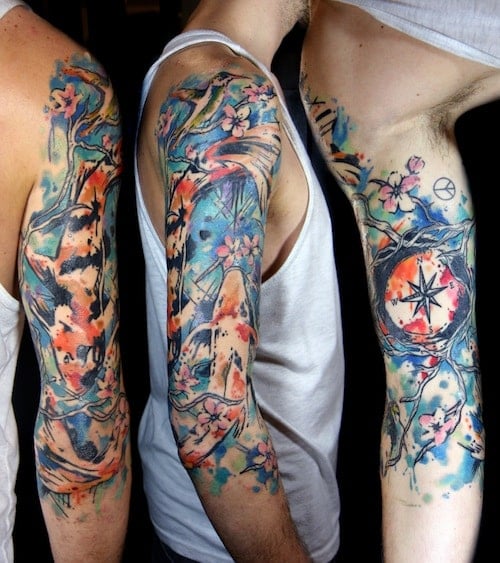 Here is a half sleeve, upper arm upper tattoo; the main colors used are blues and reds, and there are birds and pink flowers scattered throughout the tattoo as well as symbols; such as a three dimensional star and a peace sign.
This is another abstract tattoo that has strong black lines that closely resemble a surface that is cracked or breaking apart. Bleeding through the cracks are the bright contrasting colors of red, purple, blue and orange ink.
In this bold chest piece we see a clock with Roman numerals and a small red heart. Circling the clock face are soft watercolor lines in bright blues, greens and reds. Symbols of time are a popular watercolor tattoos idea.
This chest piece has detail extending to the shoulder. It shows a rainbow of color exploding out of a brain with some of the upper color lines morphing into flying birds. The words "I am everything I wanted to be" run outwards through the splash of colors.
The brilliant yellow eyes stare out of this unusual fox tattoo. The main colors used in the fox's face and body are warm oranges and maroon while the nose and ears are accentuated with black.
In this tattoo we see a black and orange giraffe with a large third eye in the center of its head. There is exceptional detail, even showing the hair on the ears and a chin. Behind the giraffe is a background with blue, pink and yellow geometric shapes.
This large leg tattoo of a wise owl has been designed with sharp, black abstract lines and surrounded by a palette of blue, orange, red and purple watercolors. This is a very singular watercolor tattoo for men.
Among the interesting tattoo ideas for men we find this one. The word love has been tattooed here with capital letters, with each in a different soft watercolor. Above the "O" and extending through the "V" is an old fashioned, detailed black key.
In this leg tattoo we see an small inkpot which has been upended just above the knee. Ink is shown pouring out and down the leg, starting in black and then into splashes of aquamarine, orange and maroon watercolors in places.
More watercolor tattoos for guys on the next page…