This Haida-styled turtle tattoo ideas for men is a detailed, mono-chromed piece of art, while embellishing the shoulder at exactly the right size. The intricate black and white design and waves along the outside of the tattoo make this a one-of-a-kind.
One of the turtle tattoos that combines detail, colour and a brushwork-like style, giving it originality and realistic qualities. The precise spotting on the fins and the top of its head contrast, but compliment the softer touches on the shell.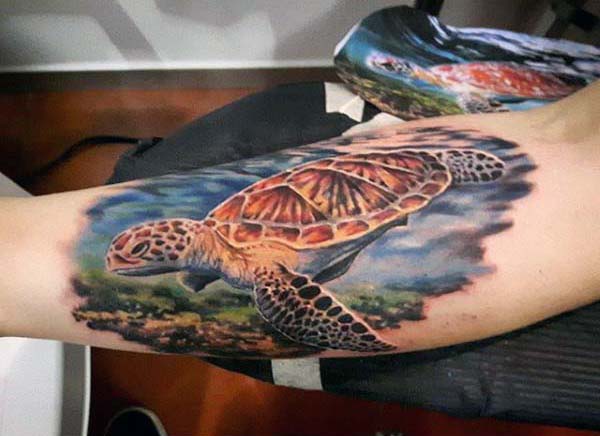 All the blues, greens and reddish-orange shades make this men's turtle tattoo pop. This turtle seemingly floats along, hovering above the detailed sea bottom while rays of light shine down realistically through the water, and make the turtle's shell stand out.
This black and white tattoo of a bale of turtles, inked in a tribal style is a great idea for a turtle tattoo for guys. Each turtle has its own style, its own artwork, while the monochrome pulls them all together to form one large tattoo.
The cartoon-style of this tattoo is another terrific choice for a men's turtle tattoo, bringing fun and art together. Set against royal blue water and hovering over a dark pebbly and sandy sea bottom, this tattoo is definitely an original.
This full sleeve is clearly art on skin, with the large, detailed head of a turtle atop a sea shaded with purples and blues. Lower on the sleeve, sharks and fish swim in the background and a woman's face stares out almost mournfully.
Don't mistake monochrome for boring. This simple but beautiful men's turtle tattoo is brimming with meticulously placed spotting and elaborate shading, as this turtle glides aimlessly across the chest, as the turtle's eyes seem to follow your every move.
Turtle tattoos for guys like this isn't extreme, but is definitely a noticeable addition, as far as men's tattoos go. The monochrome tribal turtle depicts shapes and designs, giving this black and white tattoo a simple but attractive look.
This gorgeous men's turtle tattoo draws in all the colours of the rainbow, and has a Mexican "Day of the Dead" feel to it, with a skeleton head in the centre, and the turtle swimming up underneath. This one is truly a masterpiece.
This men's full sleeve tattoo is done in black and white, with pops of colour in the form of various creatures, save for the waves along the wrist. The brown and green turtle seems to surf down the arm on a frothy wave.
More turtle tattoos for guys on the next page…