This stately pine is growing up the inside of the guy's forearm, with slight shading at the wrist to the dark trunk of the tree. The tree is bare and just has a topknot of foliage at the top. It almost reaches the inner elbow in length.
This small beauty represents the mythical Tree of Life in a wrist tattoo. The trunk is thick with twisted branches that are practically bursting with leaves. It is the perfect size to put on the wrist or anywhere else that you want to make a natural statement.
This woodland scene is a partial sleeve tattoo. It starts at the elbow and the group of tall pine trees point toward the wrist. There is also a wooden fence at the base of the tattoo, that includes gray-shadowed underbrush.
For guys who want a tree tattoo with a little color, this small tattoo may fit the bill. The tree is outlined in black and spreads its full branches in both directions. Small leaves of orange, red, and green dot the tree.
This is another mini- tree tattoo that can be inked anywhere you wanted it. It is a pine tree done in black that has full branches. Some like to put these tree tattoos on their inner wrist or upper arm.
This is a fascinating tree tattoo that decorates the palm of a guy's hand. The exposed roots of the tree are entwined and work their way up to the tree, toward the wrist. The trees bare branches extend across the palm. Several blackbirds fly across the tree tops.
This tattoo gives another meaning to the word "palm tree". Dark roots shade the base of the palm as a solid black tree trunk follows he natural line of the palm to form a tree bursting with foliage. A couple of black birds are flying from the top of the tree in the distance.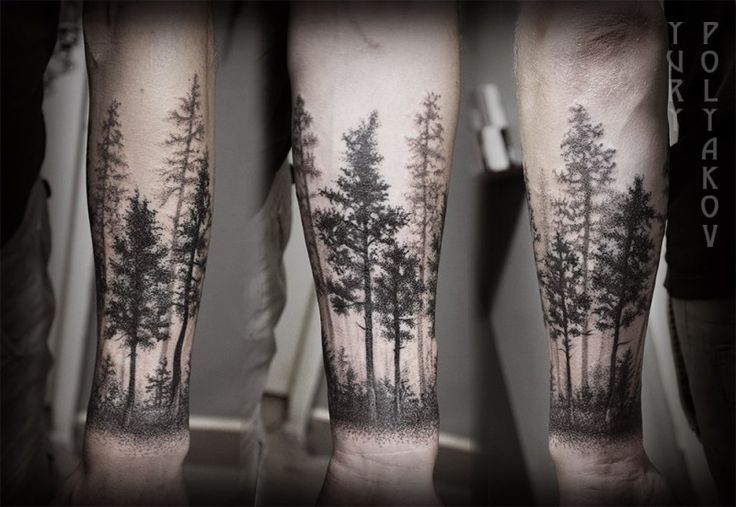 This tree tattoo almost looks like a black-and-white photograph of a woodland scene. It is a tattoo sleeve of beautiful pines trees of different heights as well as a highly detailed shaded underbrush.
The noir setting of this man's tree tattoo is delightfully unsettling. Under a full moon that is rising on the shoulder, dark clouds swirl around a scraggly tree. A featureless little girl is riding her swing in one of the lower branches.
For a little interest, this tattoo is a plot of five pine trees that are growing up a guys side. They are in perfect perspective, with two small trees and two larger trees.
[the_ad id="18525″]