Yet another wrist tattoo; it's less lushy and less poetic than the previous one. Still, it has a more far-reaching root. Its stoutness coupled with the minimalistic approach makes it a perfect tree tattoo for guys.
This moderately placed back shoulder tattoo flourishes with meaning. It portrays the famous Bodhi tree, under whose shade Siddhartha Gautama, known as Buddha, attained enlightenment. Breaking the shackles of Samsara, Gautama Buddha, the awakened one, achieved a complete liberation from, and understanding of the world.
A sprawling oak tree conveys the wisdom and knowledge rarely seen in men. The tree has seen it all, been through it all, and now continues its life on the shoulder of those deemed worthy of its secrets.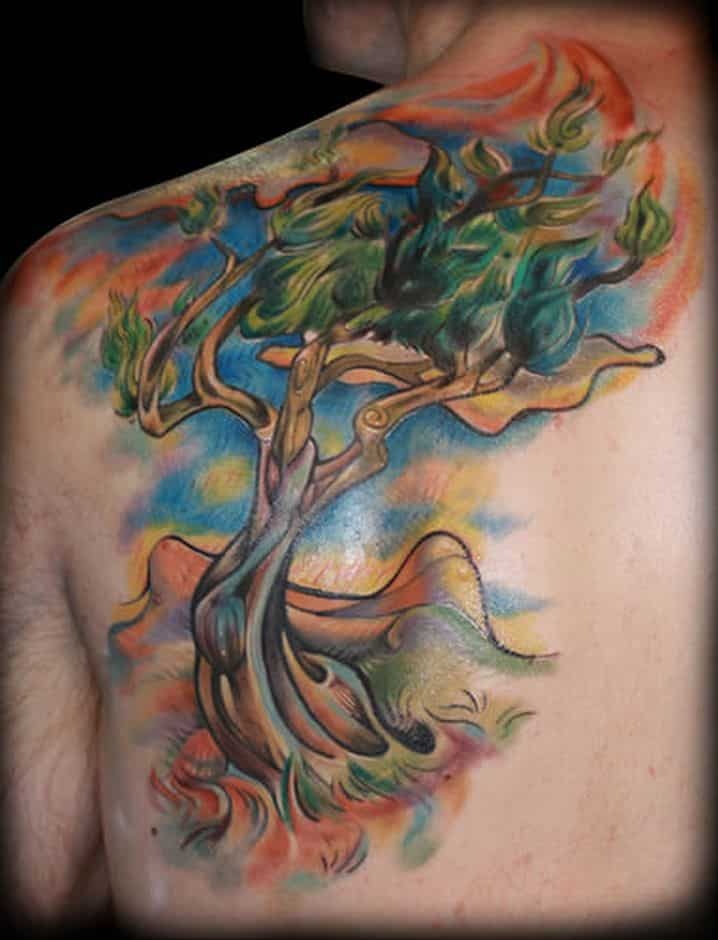 There is nothing to mar the joy of this scene. Lines that refuse any sharpness, colors that slide into one another, the whole spectacle, unraveling right before our eyes, seems to be in a constant dance. All the vitality of nature is condensed in this tattoo sprawling over half the back.
Tattoos picturing a tree often tend towards representing a life stage. Thus, bare-branched tree would be reminiscent of an older age, when life has already thrown everything it's got at you. Given such symbolic perspective, this tattoo invokes the resilience and pride of old age.
This is a fantasy tree tattoo for guys that covers the whole chest and right shoulder with a twisted tree trunk that has vibrantly-colored blooms. A ladder curls from the navel to the top of the tree and there is a brilliant sunset in the background.
This tattoo is for both forearms. One side features a black and white cross section of a log, showing its intricate rings. It is encircled by stately pine trees and mushrooms. The other arm has a black and white silhouette of a group of pines.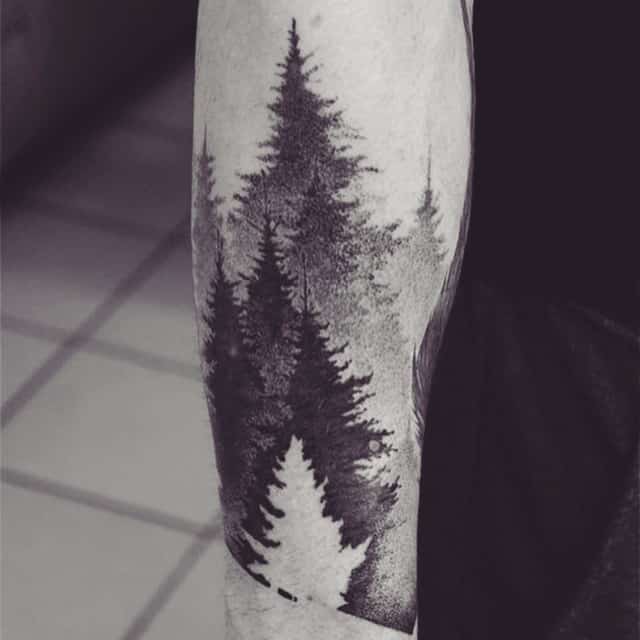 This is a guy's tree tattoo that decorates an entire upper arm. Silhouettes of pine trees in various shades of black and white gradually open to a tree-shaped pathway at the top of the arm.
Breathtaking color is used for this upper-arm tattoo that captures a lush forest scene with tall pine trees and plenty of green underbrush. There is also a little stream that ends with small, cascading water falls at the bottom of the tattoo.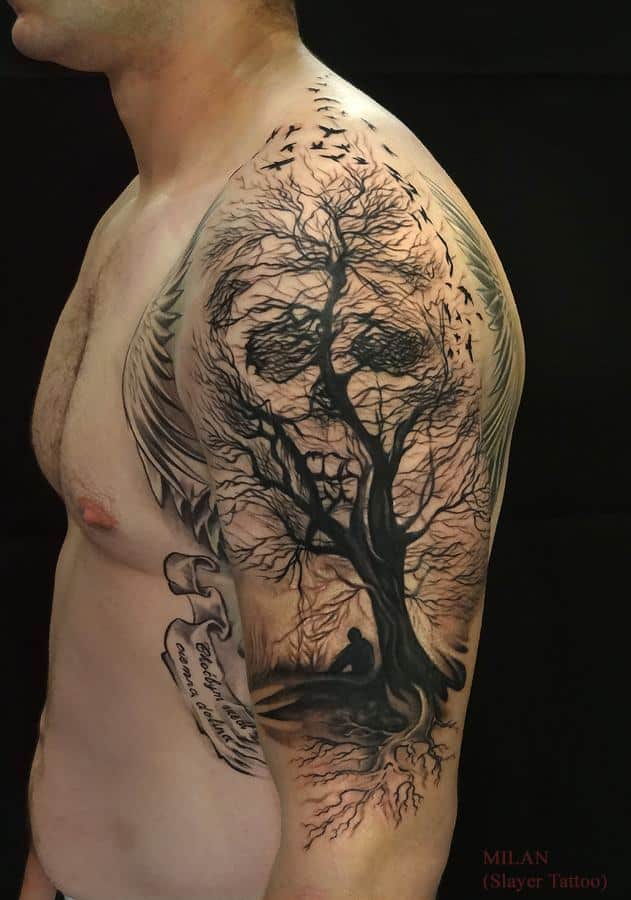 This upper arm tree tattoo is a classic Gothic scene of an ancient tree that exposes its dark roots as it reaches for the sky. There is shadow of a man resting under the tree as he watches a flock of black birds that are swirling around the top of the arm.
More tree tattoos for men on the next page…