Hotter than the sun! This tribal sun tattoo ideas comes in solid black ink and a perfectly rounded core placed at the upper arm. It is filled with full color, while the short and long rays surrounding the circle overlap and flow in perfect symmetry, each emitting radiant pointy waves.

Red and blue creates the ideal, fiery and striking combination for sun colors that produce stunning brilliance. The ankle tattoo's center appears like a moon with black shades, while tribal rays extend in all directions that is evidently from the sun. This image likewise resembles yin and yang or fire and water elements.

The radiance of love shines through in this sun tattoo that carries two lover's names within its core right inside a starry object. A black circle forms the inner form of the sun, while big and small, short and long, sleek and bold waves are emitted in a fluid symmetrical tribal form.

The center of the back features a tribal sun illustration in both solid black fill and white hollow shapes. The contrast of dark and light is just perfect to create an image that is very pleasing to the eye, with a typical center at the core made beautiful with overlapping flowy waves throughout the surrounding circle.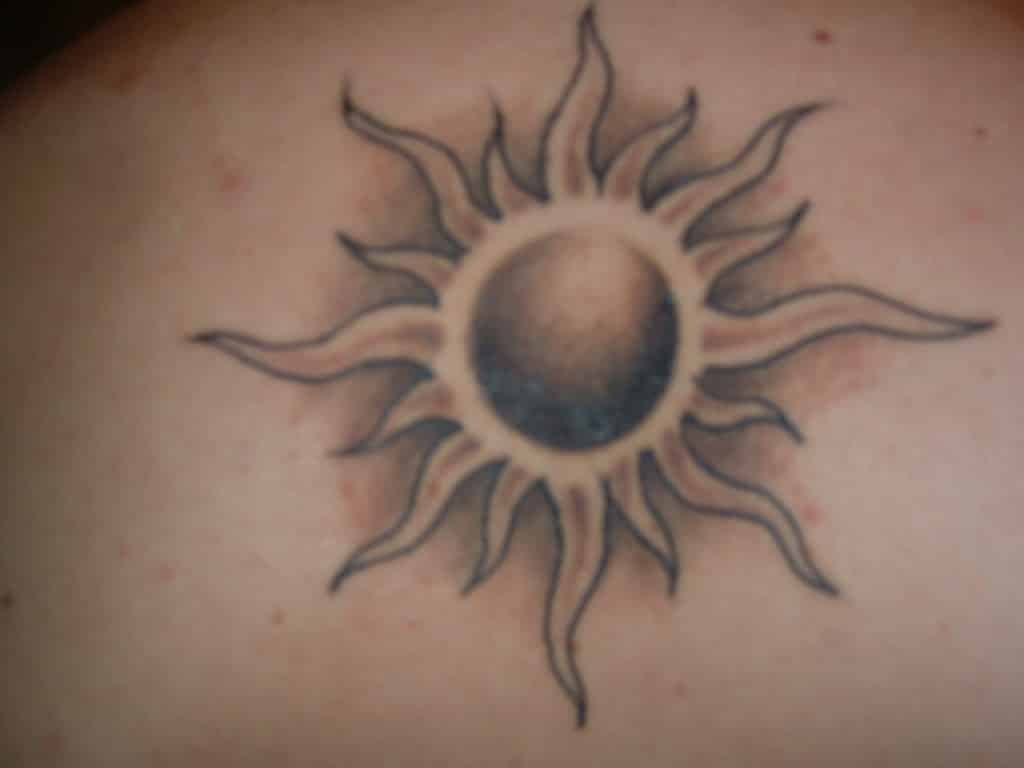 Realistic and eye catchy, this picture of a sun gives off undying warmth with its beautiful appearance. The color black is far from being dim with the rich texture and sheen of this tribal tattoo. Its artistic form and the extending short and long rays give off brightness that overcomes darkness.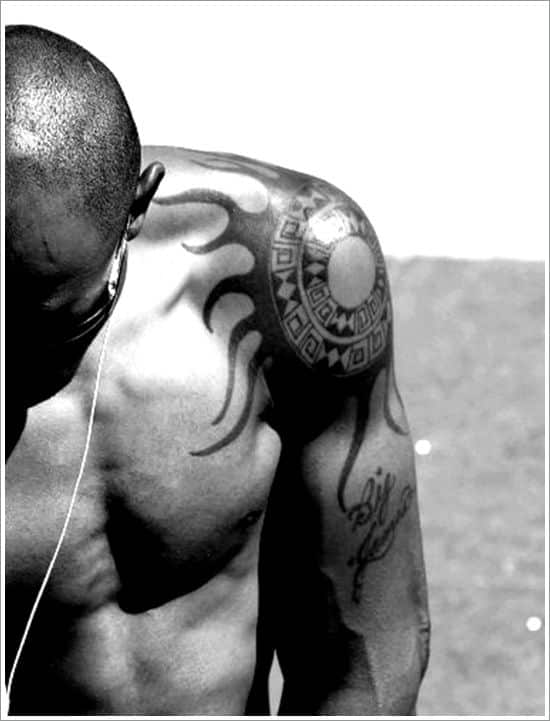 This sleeve sun tattoos for guys shines through as an astounding masterpiece. The core of the sun is kept plain solid, while the surrounding layers of the circle arrive in exquisite patterns and shapes until it reaches the outermost circle. Fluid and elegant black tribal rays create an overall majestic ambiance.

A breathtaking work of art filled with the mysterious nature of the moon and the sun. This symbol belongs to unique tattoos ideas with the various patterns and shaped incorporated in this huge sun. Black, blue, and white make up the inner core while fiery red, orange, and yellow rays spread heat all throughout.

Quirky and fun, this rising sun presents a mischievous face at the center with its teeth showing and tongue stuck out, right from its mouth with a wide smile. The rays come in alternating frizzy, wavy, and solid straight patterns. The pointy borders and varied patterns create a vivid and attractive sleeve tattoo.

This crafty and skillful work of a sun tattoo design gives off both a traditional look with its Aztec theme. The sun is laden with a face defined by utmost precision and solemnity of a sun god, which holds meaning such as that of the strength of a true warrior.

This tattoo somehow represents the various forces of nature with a huge sun with a wise and solemn face at the upper arm. It yields heat like wildfire while big and dark fluffy clouds form around it, rising up high carrying what appears to be a small dragon right on top.
More sun and moon tattoos for guys on the next page…