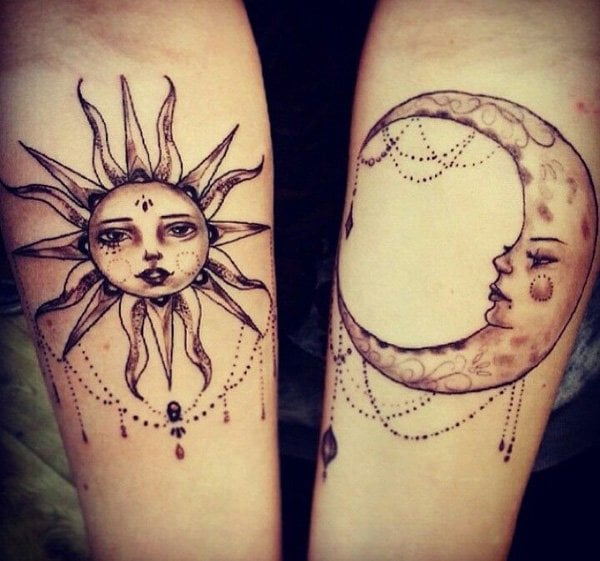 Mandala sun and moon tattoo together create an astounding celestial picture on the forearms. Each heavenly body is imbued with a beautiful solemn face and both carry elegant beads of jewels. The sun is decorated with bold lining at its core with straight and wavy rays surrounding it, while the crescent moon is enhanced with ornate lines and curves.

A plain white crescent moon cradled within the sun's inner core produce awesome majestic moon and sun tattoo ideas. The other portion is shaded in tiny dots, while the circle is inked in a solid black frame. Flowery rays, veined leaves, and long dotted rays grow around the circumference which radiate unparalleled beauty.

This moon and sun tattoo design is explicitly a wonderful work of art! The center of the sun combines a crescent moon that appears to be smiling as he sleeps, and a beautiful womanly face right next to it. Alternating straight and wavy shaded rays shine through with utter attractiveness.

Witness the beauty of the sun and moon even whilst looking down to the ground, right at your feet. Each heavenly body is laden on either foot in fine dots and shades of black, both featuring a face that's frontal on the sun and facing sideways with the crescent moon.

One of the fiercest tattoos ideas is this image of a sun and moon with individual faces. The relaxed moon in lustrous crescent form is apparently blocking part of the sun's face that seems to be ablaze, with its fluid short and long rays bursting and radiating throughout its entire circumference.

Create a unique sense of style with this celestial pairing of sun and moon tattoos for men. Each element of space holds a distinct face, embellished with decorative lines and curves, and draped with beads of sophisticated jewelry to match the sun's warmth as well as the beautiful moonlight.

Superb, colorful, and highly artistic tattoo ideas for men. The sun is hotter than hot with deep orange and yellow shades with its rays giving off radiance through varied fiery waves. The moon with pointy tips and nose looks cooler than ever with a nice shade of blue and a wide grin as it sits beside the huge sun.

Lines, curves, patterns, tiny loops and dots create an enchanting ornate moon and sun tattoos for guys. The moon's crescent shape and the sun's rounded form is filled with such exquisite artistry and craftsmanship at every inch, nook and corner. Each heavenly figure is placed at the back of the leg which surely makes a lasting impression.

A stellar sun and moon tattoos idea featuring an image of the face-bearing celestial objects blended to become one. The moon wraps its crescent shape along the side of the circular form of the sun while its rays continue to glow. Tiny little stars and curvy lines sprinkled at the sides render this artwork to perfection.

Glowing right on the forearm is the perfect combination of sun and moon tattoos in their most intricate forms. The beautiful smiling face of the moon is nestled at the center of the golden sun. The elaborate rays are filled with patterns, shapes, tiny dots, and wavy lines which endlessly run through the sun's circumference.
More sun and moon tattoos for guys on the next page…