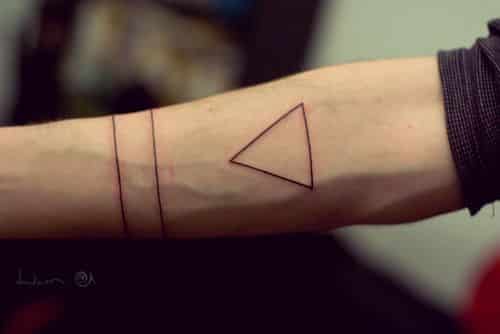 A simple geometric tattoo on a man's right forearm. It consists of two rings near the wrist and a triangle pointing towards the two rings. It is difficult to determine the meaning of this tattoo, but it does have one.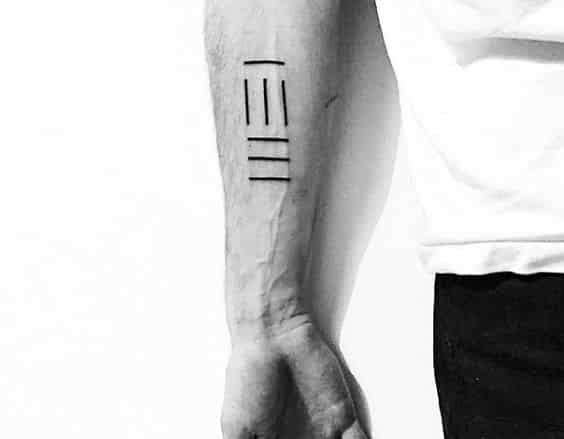 A very simple tattoo for men that at the same time depicts a very abstract concept. This tattoo which consists of three horizontal and three vertical lines plus another line looks a bit like symbols from a very ancient language.
This is a very simple but beautiful tattoo on a man's right arm. It features four rings of which two of them are joined together like a web. In a way this tattoo starts to look like a tribal tattoo, but then its basic figures remain very geometric.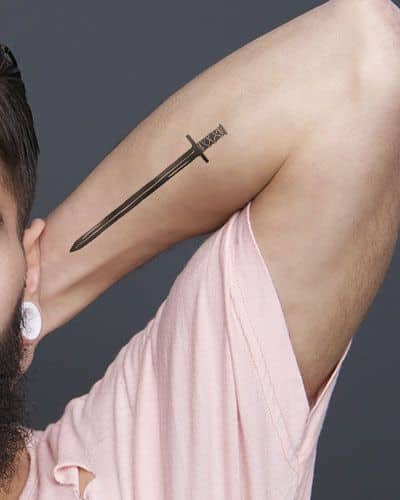 This is a cool sword tattoo on a man's foreman. It is definitely a good tattoo idea for fans of medieval movies and books. The sword is straight and not too long, probably the type that would have been used in European warfare of the middle ages.
When it comes to simple tattoos for guys, this is one of the simplest. An anchor tattoo on the back side of a man's upper arm. Although normally used to depict a seaman or any man with a love for the seas, this tattoo design will fit any man.
This tattoo design is both simple, artistic and romantic at the same time. With a depiction of heartbeat and pulse graphs as seen in hospital monitors, this tattoo indirectly suggests a man who thinks with his heart, making it a very romantic tattoo.
This is a very natural and beautifully thought out tattoo simply stating the word "Adventure" on a man's arm. Also given his armbands, it is very likely that the wearer of this tattoo lives according to his mantra of adventure.
A simple geometric tattoo on a man's upper arm which is made up of incomprehensive symbols. The tattoo most definitely may mean something to the wearer or it could just represent an abstract work of art for him which has no meaning of its own.
This is a cool tattoo concept featuring roman numerals on both a man's and probably his wife's forearms. The roman numerals spell the figures 8 4 12 which sounds either like the eight day of April or the fourth day of August 2012. A special day for both.
This is a seemingly simple tattoo with geometric figures but it could well have very secret meanings depending on whether the wearer of this tattoo is into occult practices and philosophy or not. It is therefore a very ambiguous symbolical depiction.
[the_ad id="18525″]