A tattoo that you can almost hear with the musical portrayal it seems to imply, and wish to touch with its attractive form. Respect is written in black ink to ultimately render loops, curves, and long lines that resemble musical strings and notes.

A chest respect tattoo design that covers the front of the body from shoulder to shoulder. It starts off with loops and goes round and round until the end, while curvatures found at the bottom seem to underline and highlight the word Respect.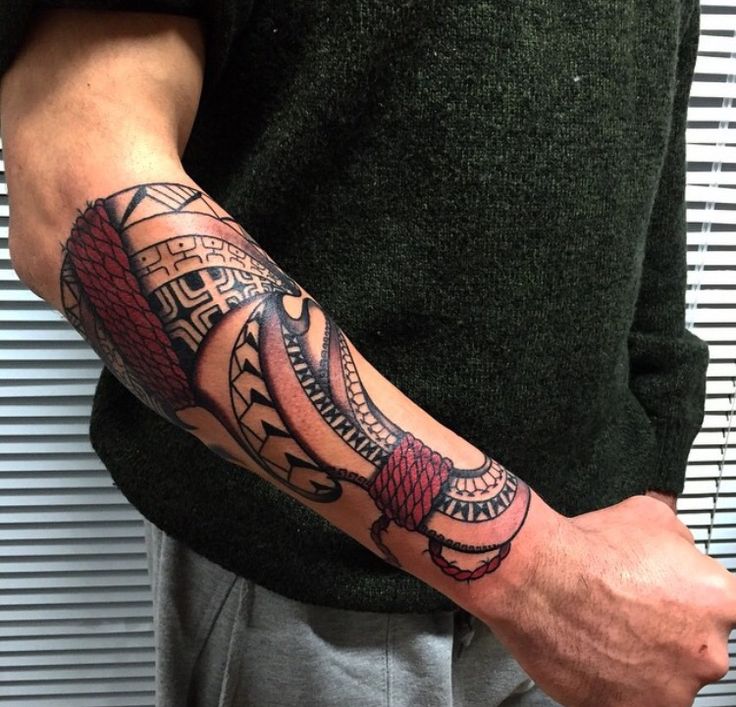 Warping curves arrive in a myriad of patterned designs possessing black and white colors, varied interesting shapes, textures, styles, and unique designs. Thick braided red ropes are put in place to keep the ribbons of curves intact and close together.

A full quote in stunning script writing is inked across the upper back, making a lasting first impression with is beautiful form and deeper meaning. It is made more personal with the unique thoughts and expression of the person bearing the elegance of this tattoo.

An ideogram or kanji in huge bold writing defines this tattoo ideas for men and creates the distinction among other ordinary tattoos. Moreover, a person's name is added in ornate curly writing which elicits this overall lustrous design an even great significance.

Two hearts, pink and purple, are each wrapped around in rustic ribbons that bear the word 'Courage' and'Strength' for the Mom and Dad. A bright backdrop of torches on fire, birds, and roses give the entire picture a wonderful colorful glow.

Two different tarot cards produce a magical and majestic look with each card illustrated in full color at each inner arm. This tattoo isa brilliant masterpiece inked in great detail on every inch, as it is not far from what a painting looks like,

This image initially looks simple, but holds great power as it represents the symbol of strength. It is beautifully inked at the center of the back right in the middle of backbones which yield an astounding respect tattoos emblem to flaunt.

This left arm tattoo features a black, greyish and shadowy Chinese tattoo which holds so much meaning aside from being fascinating symbols. The lettering is surrounded by plain and bold flowers in full bloom found on the wrist and on the sides pf the arm.

Tribal lettering on this remarkable tattoo create an astounding appearance with 'Honor' and 'Respect' arriving in thick and bold styles. Each word is laden on each side of the arm which exhibit blue and black fills in gradient shades and textures.
More respect tattoos for guys on the next page…