Family tree of names tattoo, if you have a family, and you want their names on your skin, then a family tree of names is a good idea. It is one unique and beautiful tattoo that can help strengthen the bond in the household. It shows how much you appreciate your family.
This is a tattoo that describes how everyone's life is a story and the way each person should try and come out with something positive. The names and books symbolize everyone's story and the each story is either big or small.
A wrist tattoo of the name Elizabeth written on the wrist, wrist tattoos are also very nice especially when done with a nice font like this italics. The wrist name tattoo probably is the guys' mother, daughter or spouse.
This is the last name tattoo written in the street style in the back. The graffiti has several colours that make it attractive to look at, and it's also vast and visible to see. This is also a unique tattoo idea for men.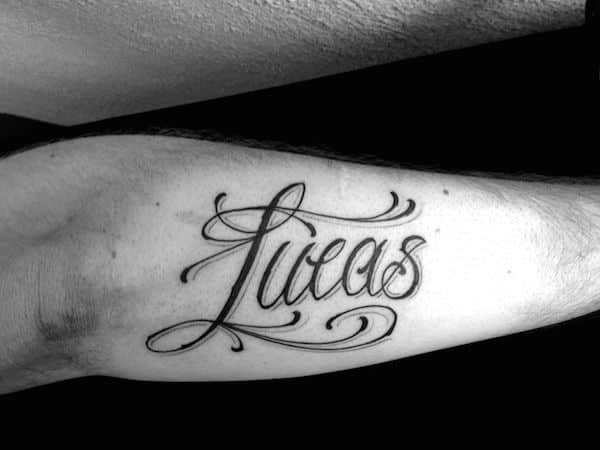 The tattoo with name Lucas on the forearm is probably the guys' name. It's a unique way to have your name on your forearm. Most men prefer to have their names on the forearm.
This tattoo can be the last name. Most proud dads have the names of their adorable babies on the side of their ribs too, probably the name of the bay is Finlay. A tattoo like this one with large fonts can also be a family name.
Some guys love this kind of tattoos. Anchor tattoos are unique in their way. This anchor tattoo with a ribbon with the name Diana may symbolize the way this guy is hooked and anchored to the love they share with Diana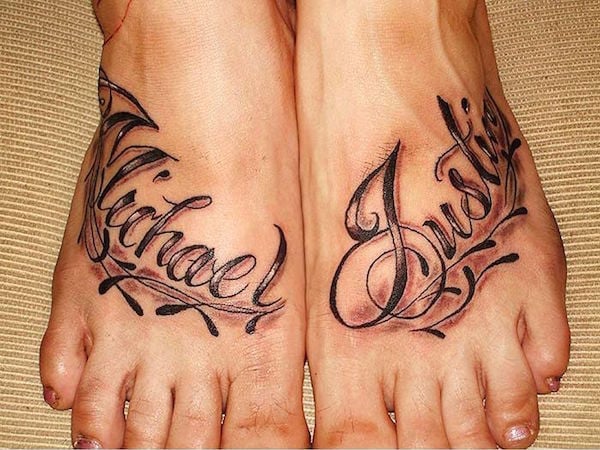 These tattoos are on both feet and have the name Michael and Justin. This might be the names of the guys two sons, and it's a unique way of having names of your loved ones on your skin
This is a tattoo with family trees and ribbons. For those who love their families then this kind of tattoo will suit them just right. This family tree is beautiful except that it has superheroes names instead of the names of the family members.
This is such a cool tattoo idea; it has the name of the guys' son on it and the date that he was born. The back is also a great part to have this kind of tattoos.
[the_ad id="18525″]