Some tattoos tend to stand out because of their unique effects, here we have a tattoo with a smoky burnt effect in the background that makes the name stand out. The artist has perfectly blended the name "Gabriel" with the smoky shadowing effect and created a one of a kind masterpiece that looks rugged and manly.
Sometimes an artist manages to capture the essence of the person in the tattoo, here we have a tattoo of the name "Sammy" where the artist has added a few effects and two flowers to bring a unique theme to the tattoo which describes the person and make a memorable tattoo.
Underlines and overlines are a known concept in tattoo making, here the artist has made great use of these few extra stroke to give the tattoo an overall 3-dimnesional effect. The name "Maria Tomas" is inked in a beautiful font and the capital letters are made with lush curves which are filled with some more shadowing effects.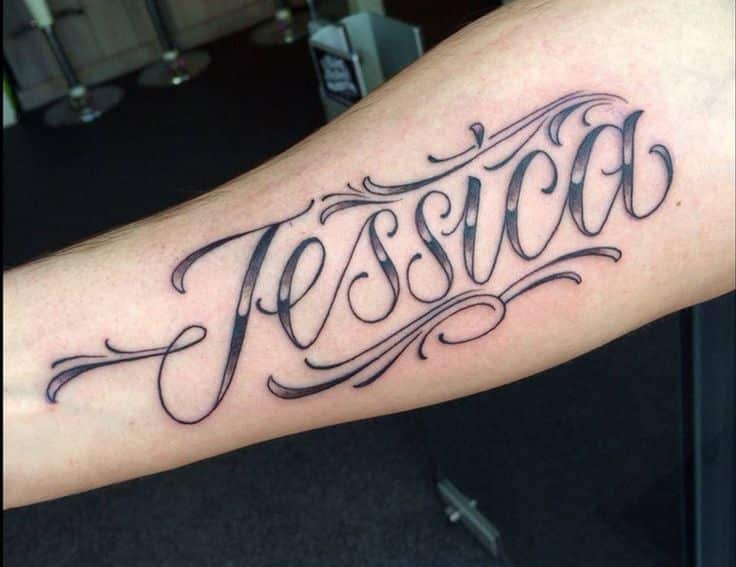 Artist have a brilliant talent to generate unique custom fonts that make the tattoo extra special, here we have a forearm tattoo where the Name "Jessica" is inked in a brilliant font with matching decoration. Overall the tattoo creates a metallic effect and the font blends with the decorations to look like musical notes.
A Sleek back tattoo of a name, in this one we see how the artist has used a thin cursive font to bring a sleek effect into the tattoo. The name "Natalie" is looking great with two hearts made in a matching theme, the artist has used a special glossy type of effect to complement the tattoo further.
The Izabela name tattoo is a name tattoo design on the forearm, and it can either be used to describe a loved one maybe the spouse of the guy or daughter. The blend of black and red color gives it an attractive look and is sharply visible.
The tattoo name here in black ink on the forearm can be used as a memorial for a loved one that has passed away. It helps keep the bond between the guy and the Belinda. Together forever always as the phrase in the tattoo is used to show the closeness of the two.
Caitlin tattoo can be a tattoo to describe the name of the guy's daughter. The Calligraphy used in the name is very clear and noticeable. This tattoo design is a man who wants to appreciate his daughter.
This is a one of a kind tattoo. Sofia's symbol name is written on a scroll on the forearm and the design is unique as it symbolizes an important person in the guy's life, maybe the mum, sister or girlfriend.
Name with date tattoo is a name tattoo idea that reminds the guy of an incident or something important that happened on that specific date. The name and date design is unique and helps preserve memories of specific incidents or moments.
More name tattoos for guys on the next page…