"Infinity and Beyond" is a bold statement (just ask buzz lightyear), and to permanently tattoo it on your wrist with your significant other is one of the boldest you can make. You are committed to living life, and beyond, together, side by side.
When the key to your heart belongs to another, what better way to show it that with a tattoo? These beautiful keys, complete with crowns for key heads, are proudly marked "His Only" and "Her Only", showing that the key to your heart has already been given to another.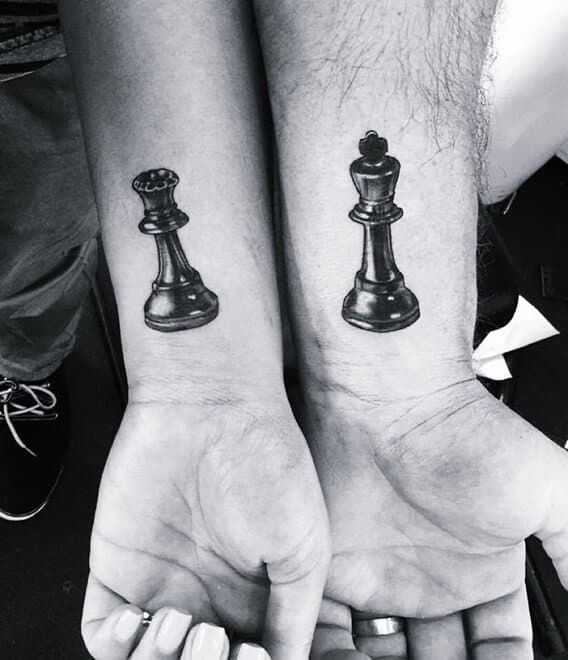 These King and Queen chess pieces are individually beautiful, and if chess is your game, a great tattoo on their own. However, if you and your mate have both the King and Queen, you must be near unbeatable. This is also a great matching couple tattoo idea for guys, because the tattoo is beautiful, and can be very masculine.
Once you have found your life partner, wouldn't it be nice if people respected that, and stopped hitting on you? With this simple Matching couples tattoo, you advertize that you are in a monogamous relationship, and like it that way.
Sometimes a simple script shared by two people is the greatest expression of love. Deeply personal, understated, and written in a beautiful style, these tattoos are the epitome of classy. This matching couples idea is also gender neutral.
These adorable bunnies are so in love they are blushing. If your honey makes you feel the same, a cute cartoon tattoo might be just the thing for you and your mate. Maybe you and your partner have your own favorite character from film, tv, or literature to create your own.
These heart monitor lines seem to register a flutter, showing that your partner still makes your heart skip a beat. It also shows that you and your partner are really the same heart, beating in to people.
Another take on the crown and words motif, these matching couple tattoos use the words "One Life" and "One Love" to represent the unity and strength of bond between the couple.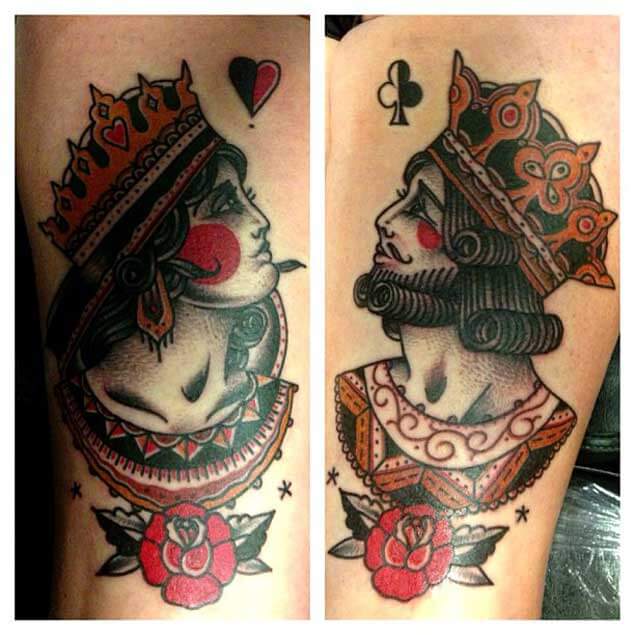 These are incredibly detailed and beautifully execute renderings of the King and Queen found on traditional playing cards. Rich in symbolism, each is a piece of art by itself. Together, the set becomes a powerful statement of love.
The inside of the wrist is a popular place for matching couples tattoos, and this couple went with simple words, which they obviously have chosen to live by, as reminders of their commitment to each other.
[the_ad id="18525″]