Again, this simple Marvel tattoo is straight to the point and doesn't need a lot of explaining. It clearly highlights the characters in the Avengers films with the neat symbols relating to Captain America, Hawkeye, Iron Man, Thor, The Hulk and Black Widow.
This black and white version of Spiderman has been expertly designed. The image portrays a very popular scene from the Spiderman franchise that sees him fight to stop the black suit/venom engulfing his body. This design doesn't need any colour to get the message across.
Iron Man is a very popular tattoo design on men, but this one centres around his pal War Machine. The exact detail of War Machine's armour has been captured expertly, while the machine gun on his back shows he is not to be messed with.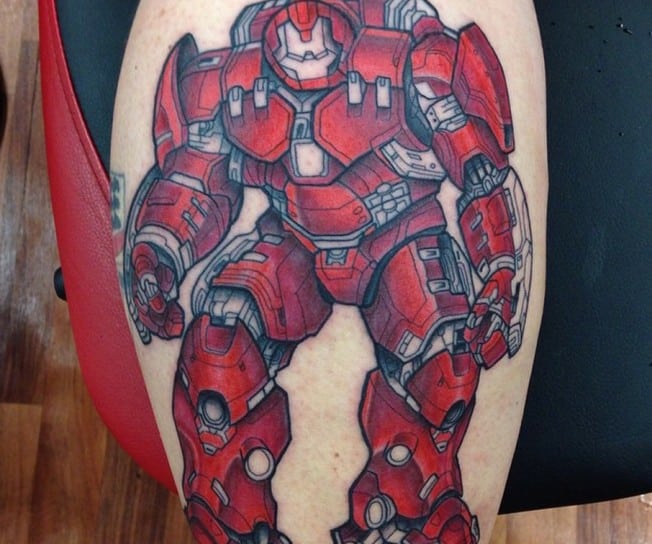 This Iron Man Mark 44 suit, or Hulk Buster as it is also known, has been designed in fine detail. The armour plates in the suit are easily recognised and is made to look bigger than a normal Iron Man outfit.
This tattoo is full of intricate detail and plenty of colour. You can clearly make out both Iron Man and Thor in action mode as they attempt to once again save the world. The added effect of explosions in the background bring a lot to the image.
Another jam-packed and colourful sleeve design that features Jean Grey, Spiderman, Wolverine and the Silver Surfer. All the colours used are blended together well, as you can easily separate each design from the other.
Hours of thought and work has gone into this amazing Marvel tattoo design. The central point of this image features Superman, albeit not from Marvel, doing battle with Captain America. This image is more of a Marvel versus DC design with the likes of Wonder Woman, Thor, Iron Man, Super Girl, the Green Lantern and Dare Devil all involved.
Another nice and simple to the point Marvel tattoo. The words have been spelt out across the arm with creator Stan Lee taking up the lead role in the letter M. The rest of the word features the main characters we all know from the Spiderman franchise.
The loveable but very strange Deadpool character features on this tattoo and the artist and owner have included the warped Super Heroes sense of humour in the image as well.
This tattoo highlights what all Super Hero fans are thinking. The wording 'Sometimes you have to believe that heroes exist.' Allows us all to remain in the fantasy world and believe our favourite Super Heroes are real. Captain America's shield highlights who the owner believes is real.
[the_ad id="18525″]