There is perhaps no lotus flower tattoo for guys that is as versatile as this one. It can be drawn on different parts- chest, lower back, upper arm, and shoulder. It is a simple design whose petals feature varying shades of blue and glowing red.
Have an impression of an Indian god on your shoulder. The obvious head sits squarely on the shoulder while the other body parts drop downwards. At the middle is a reddish pink flower with varying hues. There are underlying designs around the tattoo.
This is a simple yet eye-catching lotus flower tattoo design. It is drawn on the inside of the lower arm between the elbow joint and the wrist. Basic petals are seen in perfect symmetry on either sides of the arm.
Few tattoo ideas encompass four different colors, but this one does. The main pink-colored petals of the flower sit at the chest just above the nipple. Around it are blue feather shades. Towards the shoulder are orange scratches that complete the look.
This meticulous design is drawn on the upper back. It has several patterns and outlines of different shades. It is an excellent lotus flower tattoo for guys to remember a deceased loved one. It can have the dates of the person's birth as well as death.
This is a brightly colored lotus flower tattoo for men with predominantly yellow, red, orange, and pink coloration on the petals. The center of the lotus flower in this tattoo design is a greenish color, giving the overall appearance a bright yet earthy and organic appeal.
For an example of arm's length lotus flower tattoo ideas for men, this tattoo features two lotus flowers which have a good amount of detail on the petal designs and also have a sort of light purple almost pinkish coloration. There is also a koi fish present in the overall tattoo design, and light blue background ripples give the effect of being on water.
Featuring a purple and pink lotus flower with black ripples moving away from the flower, this lotus tattoo design has a yellow center in the flower. There are also peripheral, smaller flowers present in this lotus flower tattoo idea, and these have pink pedals, a yellow center, and green petals sticking out the side.
This design idea for a men's lotus tattoo is a bit different than most of the more brightly colored lotus tattoos, as it features a dominant color scheme of blacks and reds with a dominant lotus design in the middle which is darkly colored. It is almost reminiscent of playing cards, since there are mostly blacks and reds and the use of floral shapes as well.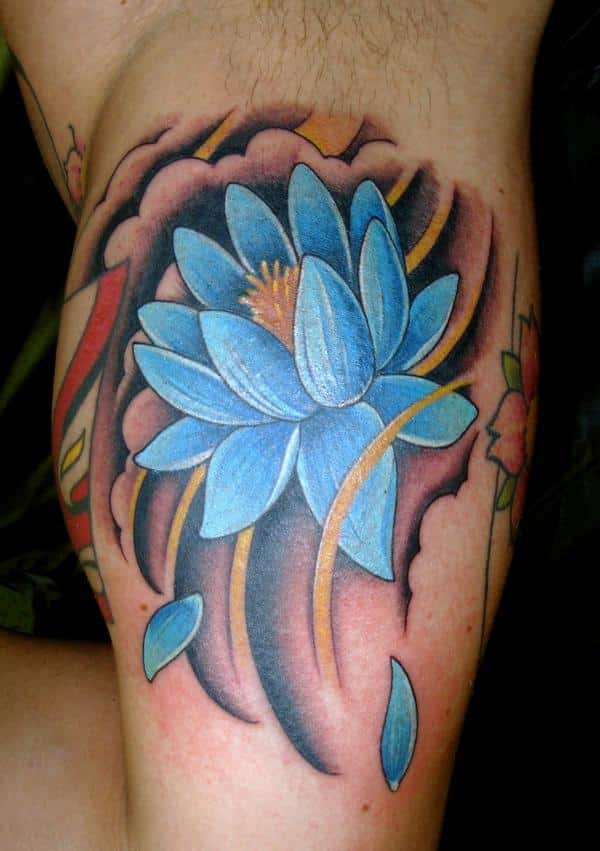 This men's lotus themed tattoo design is characterized by having a single bright blue lotus flower front and center, against a backdrop of fading pink and black waves and ripples.
More lotus flower tattoos for men on the next page…