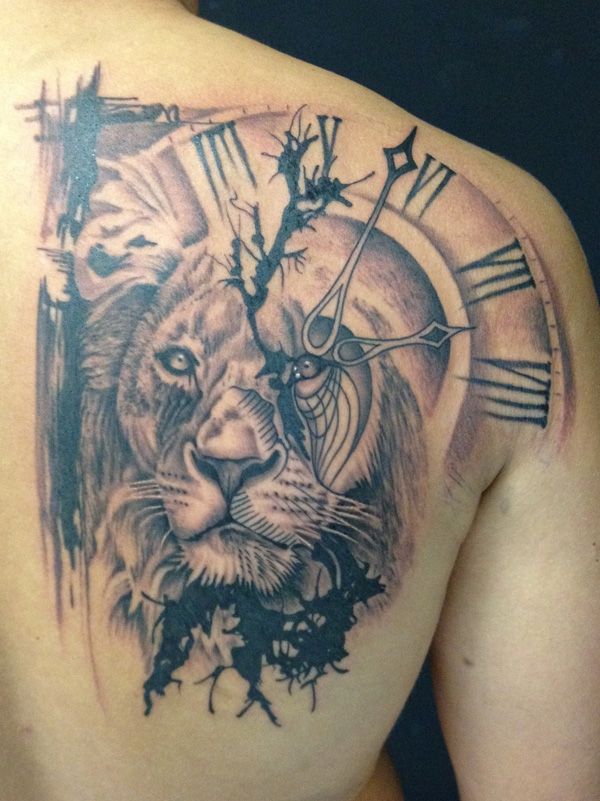 This lion tattoo features Trash Polka tattoo style- that is, a contrast of photo realistic and natural elements. A lion's head sits atop the right pectoral muscle. It's eye becomes the center of a Roman Numeral clock that wraps around its face. Blackwork sketching frames the piece.
This New School style calf tattoo features a lion inked in realistic detailing and shading. The lion's face fills the entirety of the back of the calf. The lion's right eye sports a single black scar.
In this lion tattoo idea, a detailed lion is depicted in New School tattoo style. It is inked on to the back of the shoulder, and lined and shaded to make it appear extra photo realistic. This is a great tattoo idea for guys looking for a simple yet lifelike lion piece.
This stunning Blackwork lion tattoo channels an aura of tribalism with its mandala inspired patterning. A heavily detailed lion face is adorned with intricate Blackwork asymmetrical patternings. The piece is completed with the inclusion of tiny, beautiful Dotwork.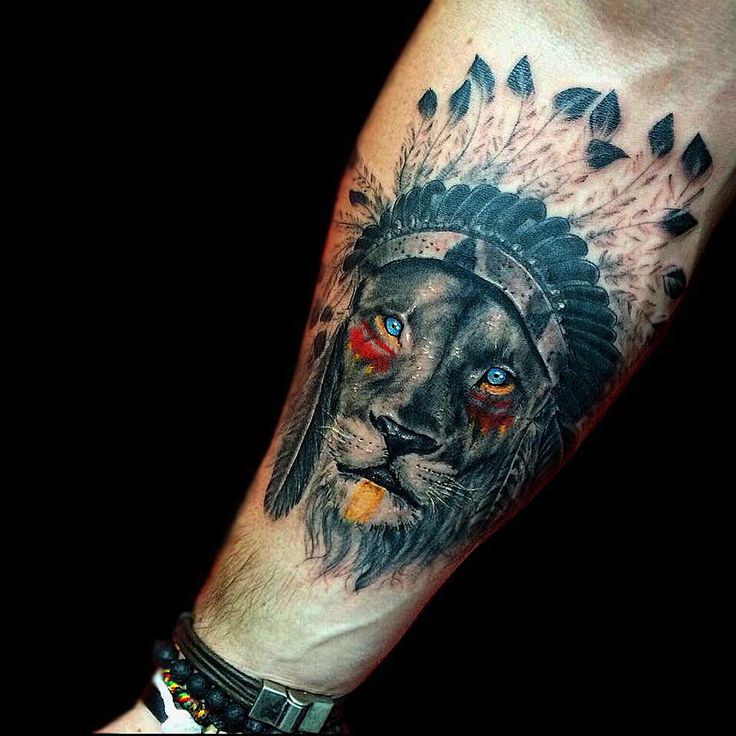 This tattoo features a lion depicted in a realistic Illustrative style. The image of the lion's head reaches across the inner forearm and is expertly shaded and detailed. The lion wears red and yellow pastel war paint, and his head is adorned with an Aboriginal feathered headdress.
This New School style tattoo features a roaring lion tearing its way from under the flesh. The flesh is tattooed to appear torn and slashed by the angry lion's detailed claws. The lion's head tears from beneath the flesh and across the surface of the inner arm.
This stunning lion tattoo features a symmetrical mandala. The mandala is floral and henna inspired, and filled with beautiful Dotwork. At the center of the full back mandala sits a lion's face, depicted in shadowy detailing and intense Dotwork.
This Surrealism lion tattoo evokes an aura of tribalism in its intense mandala patterning. The lion's snout is inked with large Dotwork. Each strand of its mane features a different henna inspired, stunningly shaded geometric pattern.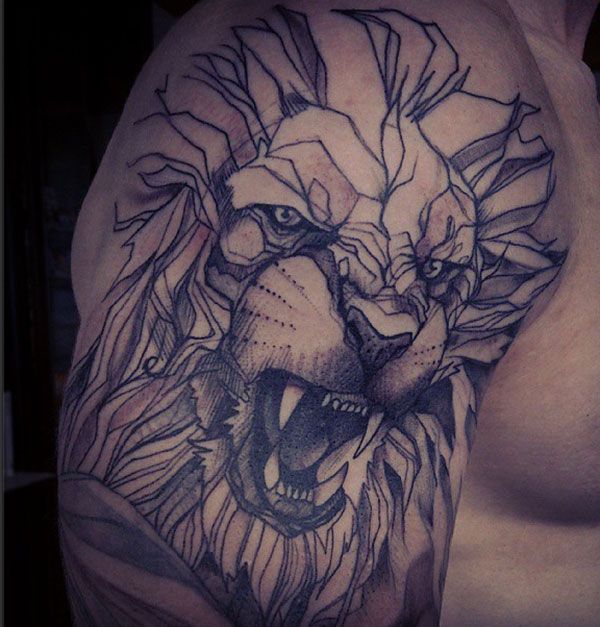 This lion tattoo for men features Sketch Work tattoo style. Thin lines form a sketch book like depiction of a roaring lion that stretches across the deltoid and upper bicep. Pieces of the mane are shaded in grey and light red, and Dotwork facial features finish this off this piece.
New School style depicts a roaring lion that stretches its head from the top of the shoulder to midway down the arm. The lion's mouth and jaws are shockingly realistic, thanks to expert shading and embossing. The mane is inked in soft orange and black brush strokes.
[the_ad id="18525″]