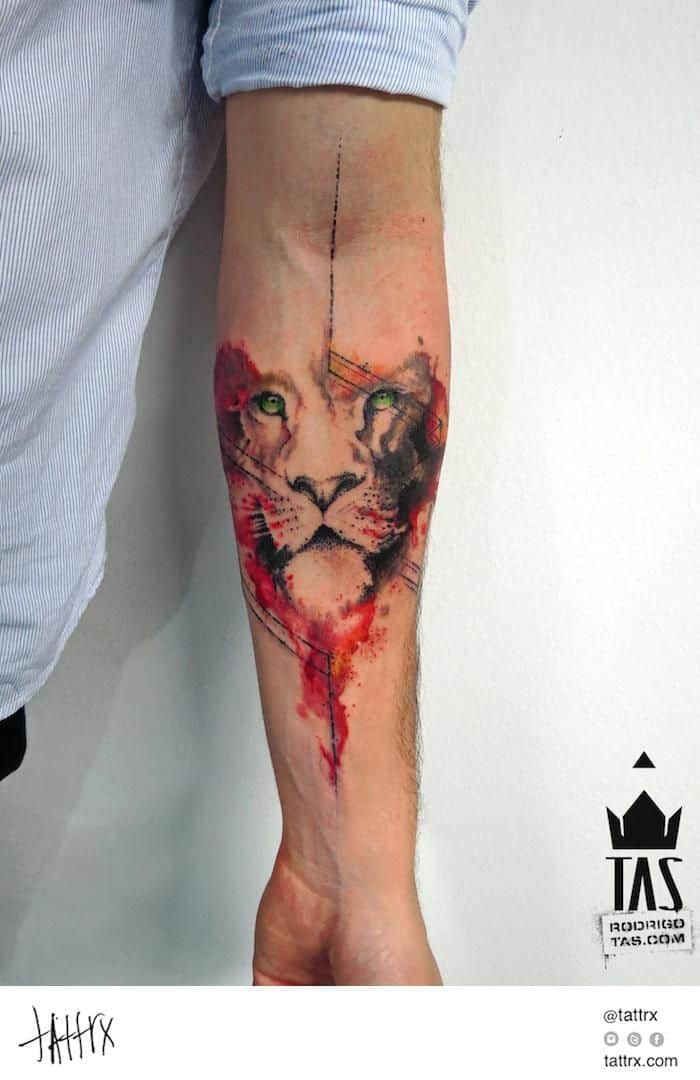 This Surrealism tattoo runs from the inner elbow to just above the wrist. A thin black line stretches from above the inner elbow to the top of the lion's face, which is splashed with red water color brush strokes that run down the arm. The lion's bright green eyes and the geometric line work overlays make this a breathtaking piece for men.

A lion lifts a paw as it treads across a grassy patch of ground. The lion is detailed and shaded in the black and white style of New School tattoos. He is bold, content, and self assured, and stands tall, filling up the entire back of the calf.
This wrist tattoo idea for men features a lion head inked in the style of New School tattoos. The lion shows off a ferocious expression made more realistic by expert shading and detailing of the mane's many hairs.
This stunning back tattoo for guys features a large lion face that stretches from shoulder to shoulder. Illustrative style and New School style merge to create a piece that is detailed, compelling, and perfectly symmetrical.
A lion peers from a spattering of water color droplets in this tattoo for men. The pastel rivulets of color run across the center of the lower inner arm, between elbow and wrist. The lion is inked in Surrealism pastel style and adorned with droplets of water color styled inking.
This lion tattoo for guys features a lion head depicted in Illustrative style. The lion's mane is a blend of blues, oranges, purples, and auburns, and stretches across the entirety of the upper shoulder in a billowing blur of pastel brushed illustration.
This tattoo is a great example of Blackwork tattoo ideas for men. It features a lion's head and mane, stretched shoulder to shoulder across the entirety of the upper back. The face is shaded in New School style, and the mane is depicted using Blackwork strokes and dashes.
This lion tattoo for men features a Dotwork design that rests upon the outer deltoid. The lion is depicted geometrically, with great line work illustrating the mane. A mandala inspired, Dotwork pattern sits atop the lion's head.
A lion roars with strength in this New School style tattoo. The lion fades into a grey shaded background atop the right pectoral muscle- a perfect lion tattoo for guys looking to get inked in this place. Heavy detailing and expert shading finish off the piece.
This New School style tattoo is a prime example of a tattoo idea that exudes power and majesty. A beautifully detailed lion head stretches across the back of the calf. The lion wears an intricately shaded crown of ornate, kingly jewels.
More lion tattoos for men on the next page…