Three equal roses peek out of an equilateral triangle etched into this forearm. The roses are both trapped inside the triangle box and learning to creep out. Grey work is strong, allowing for the depth of flower petals to shine through.
An elk stands strong and stylized with a tribal feel. No less than twelve arrows have pierced his heart. Three drops of blood show that those arrows made contact. Black and red ink, keep this animal piece flat and bold.
The dead captain is at the helm, in spite of a complete lack of flesh. A red cap stands out among smoky black and gray work. White ink is used as an intense highlight for the helm and skeleton both.
You think you are entering a friendly forest, but this forearm tattoo suggests otherwise. Look straight on in the inner arm and see that the trees make up the shadows of a gaping-mouthed skull. Black ink and sketch work keep this piece crisp.
Black and strong lined tree branches creep up the forearm, and a barn owl watches the night scene. A shrouded human approaches the trail's edge. Does he have good intentions? Or is there something afoot in this high contrast arm tattoo?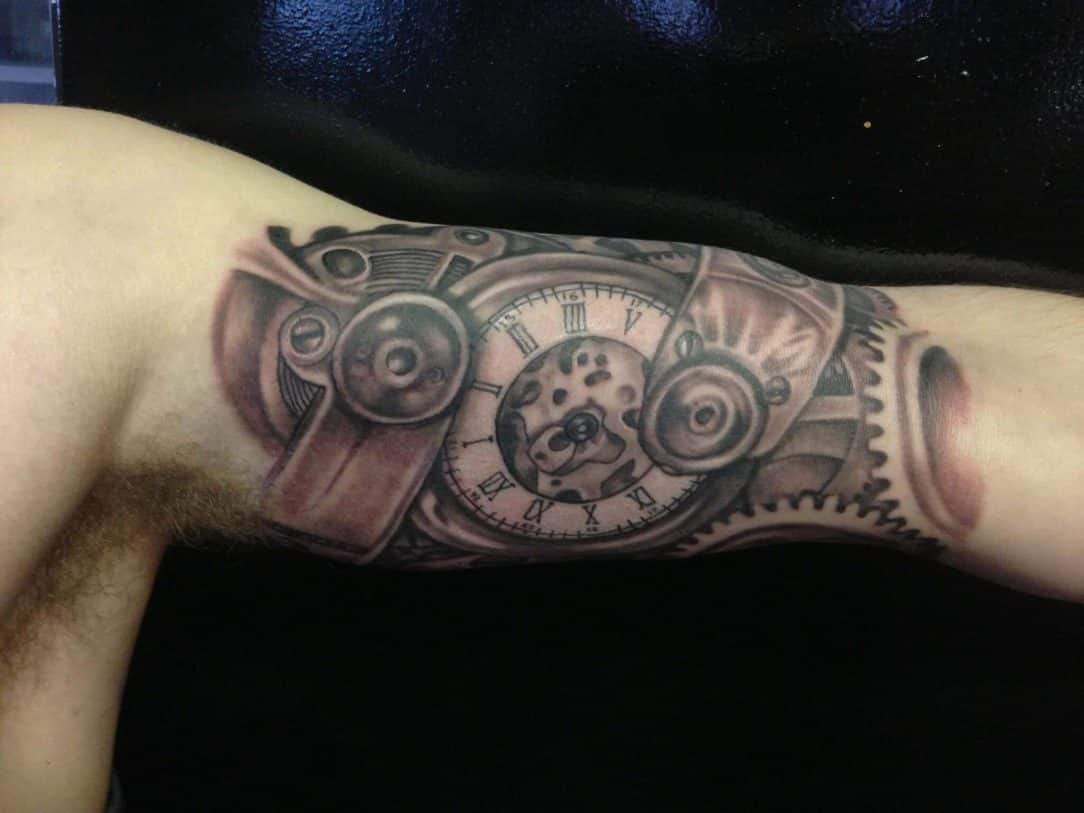 This inner arm tattoo design is a bold clockwork piece including gears and watch face. Prominent Roman numerals are matched with smaller Arabic numbers 13-24 for military time. Missing hands suggest an ephemeral feel. Black and gray ink with a touch of brown gives a steam punk quality.
The Queen of Hearts steals back what is hers from the Queen of Spades. This inner arm tattoo means business with expressive face work on two semi-realistic playing cards done in black and gray ink with a highlight of red on the object of desire – the heart.
A traditional American style eagle and snake battling it out for freedom makes a solid inner arm tattoo for men. The American flag stands boldly in solid non-shaded red stripes, while the blue behind the stars makes up the depth of field.
Gentlemanly skull portraits are some of the hottest tattoo ideas for men. This dapper mustachioed skull is outfitted with a top hat and pipe. The detailing in the frame surrounding the portrait uses black, gray, and white ink for highlighting.
You can't go wrong with your favorite quote inked in parchment on your inner arm, close to your heart. With these kinds of tattoos, ideas abound. Surround the quote with leaf and vine work for an arboreal feel. Black, gray, and green ink highlight the quote.
More inner arm tattoos for men on the next page…