Inner arm tattoos idea sometimes graduate into full sleeves like this surrealistic mix of clock faces, watches, and a human eye that "watches" too. Lifelike depth and reflection contrast with the mystical feel of an echoed clock face to make a dreamlike piece.
Full sleeves create the feel of two wooden pillars. The detailing includes wood grain that looks realistic enough to make you forget these are arms. Etched in the wood are European characters with lutes and other symbols of the good life.
Dark and brooding gray work bring out the terrors of the open ocean including ships lost at sea, and dead pirate captains. Negative space creates a moon that is shaded on one side by the natural arm hair creating a well-placed series of wispy clouds that really move.
Not your ordinary songbird. This one has feathers with varying patterns of dot work and line work making a creative interest focal point in the center of the piece. As with many inner arm tattoos, the idea is to be unique and appealing.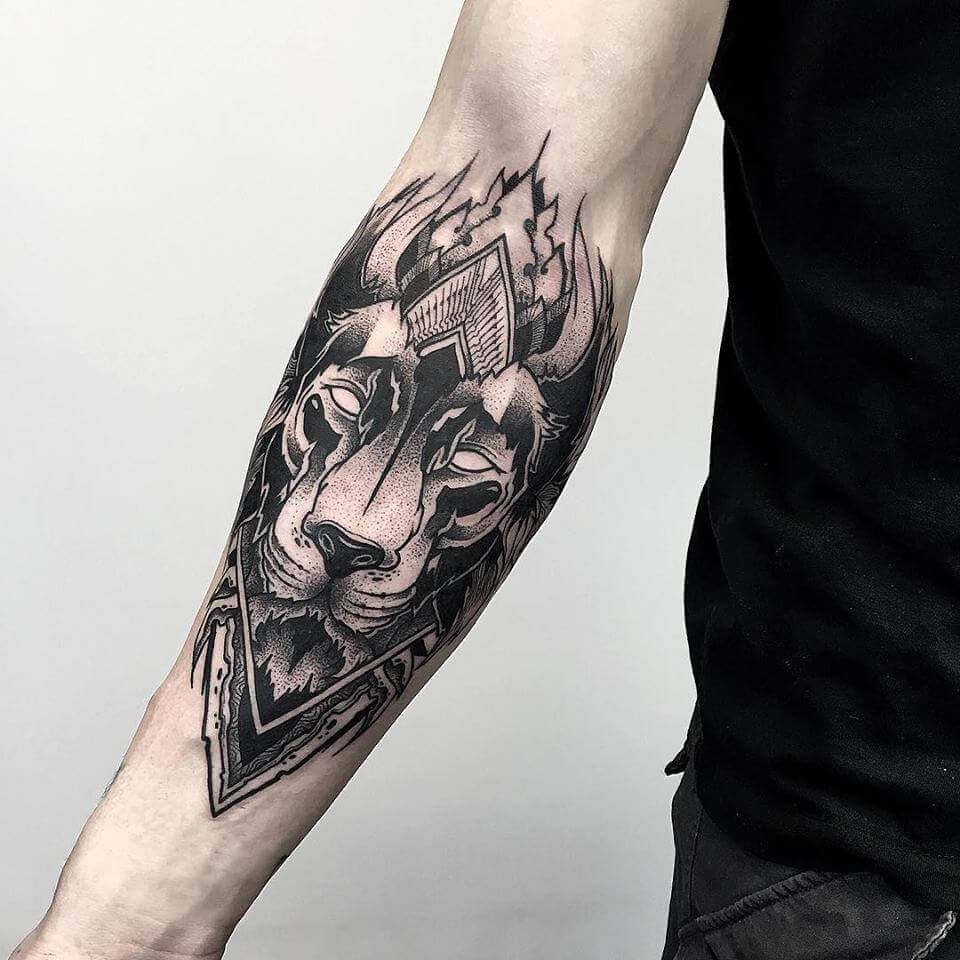 This lion probably roars fire when it is awakened from its metal slumber. Geometric and fire styling make this piece look like it belongs on the hood of a very fast car. Empty eyes suggest everything is fine, only because he is sleeping.
Modern traditional style makes this wolf stand out on light skin. Purple ink splotches in the gray fur show blood. The bright yellow eyes tell that this wolf is not dead in spite of two arrows in its neck. This is one angry wolf.
Biomechanic tattoo styling turns this full sleeve into an armored weapon. Bullets pepper the green metallic shielding. This armor has been in a battle or two. The style is more graphic novel than realistic. Red highlights remind you there's a human under there.
A tiger comes to life in this bright orange and green piece. The teeth are bared, but not in aggression. This tiger is calling to a friend, maybe to a cub. The look is sincere and heartfelt. Leaves frame the animal portrait.
This top mandible-only skull could have been painted with Japanese ink. Sketchy styling leaves imperfection as the highlight. Black and white ink create contrast while negative space fills the highlights. Prominent black drips suggest a deep love affair with ink.
Would it be so bold as to believe that this tattoo commemorates some time behind bars? Jesus' praying hands are bound with modern handcuffs, but it doesn't stop God's rays of forgiveness from shining down. Black and gray ink and realism pull this piece together.
More inner arm tattoos for guys on the next page…