The dragonfly is a fascinating insect, and looks majestic as a tattoo inked on the foot with a watercolor effect. The splendid colors splashed across its widespread wings blend perfectly well within its entire form and wavy outlines, sprawled beautifully on the skin's surface.
Dark and light has achieved the right balance in this picture of a white bony face structure that's been wrapped in darkness. The hollow eyes and nose of the skull look more solid with the prominent features of this eerie foot tattoos for men.
Flaunt a true masterpiece with this awesome tattoo covering both your feet. Each half displays an astounding artwork with painted faces of creatures that are filled with various patterns, shapes, vibrant colors, and evident originality down to the last detail.
Everybody loves music, and one can't possibly resist the charm of this simple yet beautiful, and whimsical black tattoo. Each foot showcases small, but boldly, neatly, and clearly inked musical symbols that were delicately illustrated on the sides of the ankles.
Simple, cartoony, cute, plain black and white, and definitely the coolest and most awesome tattoo ever! Six emblems symbolize each of your favorite Avengers character and rest side by side, strength by strength, and hero after hero, across the side of the foot.
One of the most unique tattoo ideas for men is this image tracing its way from the heel of the foot and finding its way up to the legs. Towering pine trees reach great heights as it follows the structure of the body and results in a creative work of art.
Nothing can be as lovely as this black-toned rose in full bloom, with the soft petals packed next to each other and vines extending over the foot. Even the small leaves posses fine details, while curved thorns crawl gracefully near the ankles.
A beaded anklet goes round the bottom of the leg, ending the loop at the side of the foot where a large feather dangles. Each hair is heavily inked and made to display rich texture, while the fluttering birds give life to the picture.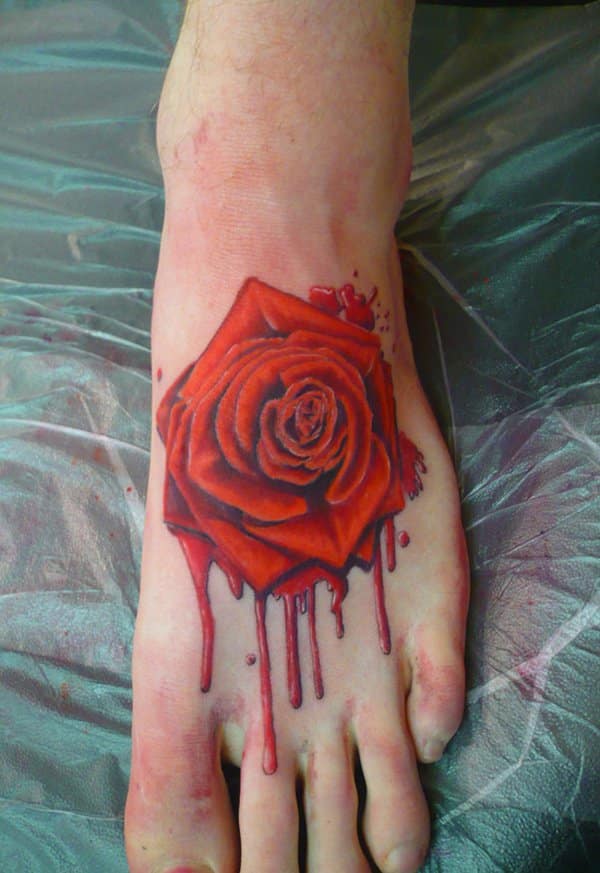 The brightness of a huge red rose radiates at the center of the foot, growing from a bud and circling outwards to lusciously thick petals. A bloody red fluid backdrop splatters near the leg and drips slowly down the toes.
There's no better way to express yourself than this foot tattoos for guys that portray an inspiring image and a meaningful quote. A feather folds and curls as it is blown by the wind, whereby small black birds fly from its tip and head up high.
More foot tattoos for guys on the next page…