In this tattoo the guys hand is covered with small things found at the barbers shop, it is great for hair-stylers and barbers who want to symbolize their skills by marking their fingers with ink. People in the styling industries usually work a lot with their hand which is great to flash one.
Quite common in term of concept but still manages to look great, this hidden infinity symbol looks great and can represent many things like never ending strength, endless endeavors, Etc. The placement is working the magic here as it can be made on the ring finger to represent infinite love.
A ring finger is a very small place for tattoos yet some skilled artist has managed to ink the ring finger with detailed skull which has been painted as the festivities of the day of the dead which is a popular Latin-American traditional. This is as good as wearing a ring because it looks so stylish.
Another tattoo which is made to look like a ring and it is inked with single letter, people can have this done at their weddings to have something to remind them of their special day. It goes all around the finger very similar to a ring, this is great for people who don't want flashy tattoos.
One of those tattoos that cover all fingers to read out a phrase, here it reads as 'Drop Dead' which is very punk and can suit a guitar player or any musical artist. As the tattoo even has some small symbols, the one on the right hand are rain, thunder, music and money whereas on the left hand it has a crown, a diamond, a heart for the ring finger and an anchor for the pinky finger.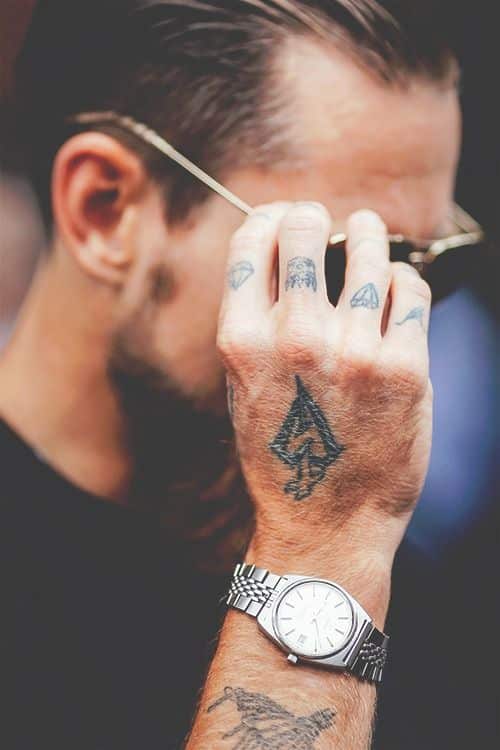 These knuckle tattoos look pretty rugged, the first finger has a diamond inked on it, the second has a crown, the third is an inverted diamond and the last finger seems an arrow pointing down. It looks pretty iconic and can be finger tattoo design for celebrities like hip-hop star or pop stars.
Twin thumb tattoos that are made with a contemporary touch, the left hand shows a burning lantern with a flame that is overflowing from it and the right hand has an hourglass. This seems like it has deep meaning and importance to the owner, it can mean many things like zeal against patience or time and light etc.
This finger tattoo is complimenting another tattoo on the hand, it is shown to be a hand o an guitar player and it read as 'Soul'. People have been making tattoos inspired by music ever since the first Woodstock, body art goes well for artist and music lovers and this one particularly looks iconic.
Double fist fingered tattoo that has been inked in a custom font with the words true love, it is a popular phrase and it looks brilliant when inked across all the fingers. The word love even has a small but detailed heart drawn instead of the the letter 'O' which adds to the overall appeal of the tattoo.
More finger tattoos for men on the next page…