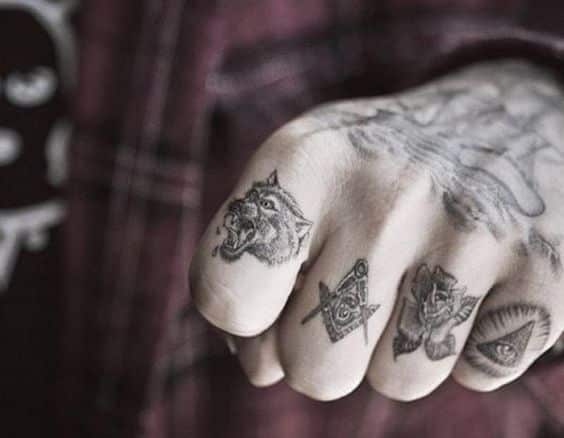 This tattoo has a combination of various characters that all contain unique design details. The masonic sign and the eye or horus have a hidden, occultic meaning. The owner displays all the characters on the knuckles of each finger.
This one is also among the tattoos ideas that contain a hidden meaning. The skull on the side of the index finger has a line that extends towards the tip of the finger. The splash effects of the black ink make it unique and appealing as well.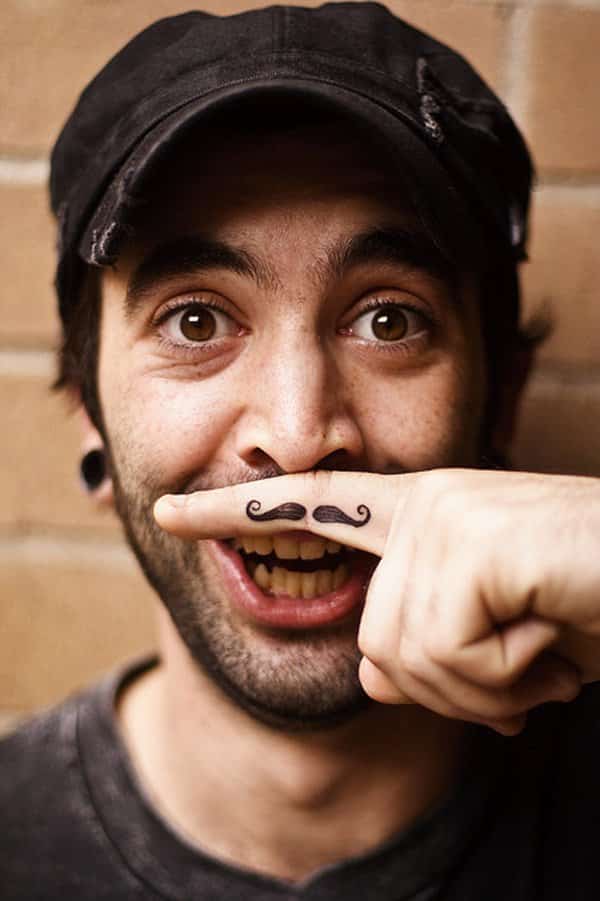 This tattoo has no any special meaning, but to bring some fun into the art of tattooing. When the finger is placed over the upper lip, it forms an imaginary mustache that looks elegant. It can be applied in different sizes based on the wearer.
This is another unique finger tattoos idea that features a simple skull with a rose over it. The design combines a bright and a dark meaning of the tattoo. Maybe it is to commemorate a departed fellow, or it is a bad-boy tattoo design.
A simple but classy head of a dog is applied on the index finger. There is no any special meaning with this tattoo, but it could be a sign of honoring or showing love for the guy's dog. This is common with the dog lovers.
There is a blend of a palm tree, a rose, a rotary wheel, a set of arrows and something like twin watchtowers. They all have their special meaning, but the combination makes them look elegant on each finger of the guy.
This is a tattoo that is meant for a music lover, specifically a violinist. The violin is elegantly applied to the ring finger on the left hand. It could mean that the person has a deep passion for music, which is part of his life.
This is among the finger tattoos for guys that deal mostly with firearms. Most probably, it could be an army man that shows his dedication to his work. Alternatively, it could show that the owner of the tattoo has a love for the AK47 rifle.
This is another tattoo design that is meant for the lovers of wildlife and nature. The simple design of the giraffe on the ring finger could have a strong meaning to the wearer of the tattoo. The black color is deep and looks elegant.
The anchor tattoo on the thumb is visible to everyone, and it could hold a special meaning. Since the thumb is used to support the other fingers in many ways, the anchor tattoo will most likely symbolize support. It doesn't have much styling details.
More finger tattoos for guys on the next page…