This stunning Surrealism tattoo is done in a dizzying overlay of line work that resembles something out of an artist's sketchbook. An elephant's head stretches from outer shoulder to elbow, decorated by a sprig of blossoms. The thin outlines overlap in a way that creates a captivating illusion of movement and art.
This New School tattoo features an elephant head that sits across the outer upper thigh. The elephant clutches a bouquet of flowers in its trunk, and wears a decorative Aboriginal headdress atop its head. She is adorned with feathers and jewels.
This handsome arm piece wraps from outer arm to inner arm and features an elephant covered in mandala Dotwork. The elephant image lays atop a flurry of pink blossoms and roses, all expertly shaded with white and blue light.
This American Traditional style tattoo features a tiny elephant head adorned with a circus headdress. The elephant flaps its trunk amidst traditional styled stars. The headdress features careful Dotwork and shading that evokes a mandala style pattern.
This full back piece combines Illustrative and Surrealism styles to create an elephant tattoo that appears to rise from the flesh in an orange pastel blur. The elephant head stretches from shoulder to shoulder in stunningly detailed water color style.
This is an amazing tattoo for a guy that fits perfectly on the arm. It portrays the lead elephant with its herd in tow in an obvious yet colorful manner. It has been expertly designed with just the right tone for a perfect finish.
This great tattoo shows continuity and unity of this herd. The calf is right in the middle of the parent elephants, a clear manifestation of the care that elephants give to their young ones. An ideal fit for the arm.
This elephant arm tattoo is just super creative. It incorporates color and texture in an amazing fashion, and the conspicuous tusk is placed right at the perfect positioning. A must have for lovers of 3d tattoo art who recognize true masterpieces.
This tattoo is one that many will marvel at. The artist has wasted not his skill in incorporating the elephant and red roses to make an inviting composition that is to die for. This is a great tattoo idea for men.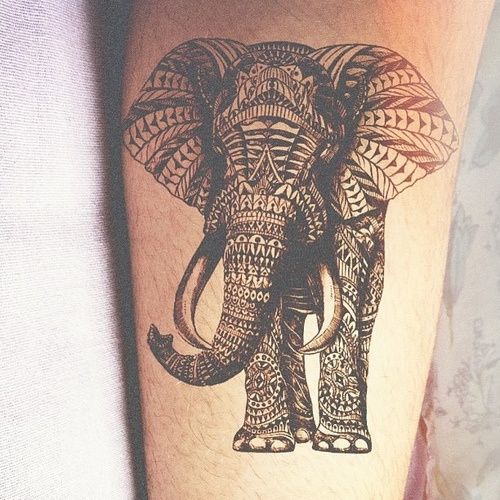 This elephant tattoo is not just one of the common boring elephant designs. It is intricately woven from inviting patterns that have been put together by true artists. It adds the much-needed twist that lacks in most commonly drawn tattoos.
More elephant tattoos for men on the next page…