This stunning Blackwork tattoo features an elephant that sits on the outer bicep. The elephant is filled with stunning asymmetrical mandala style inking. This henna inspired tattoo is a beautiful combination of line work, dot work, and floral mandala pieces.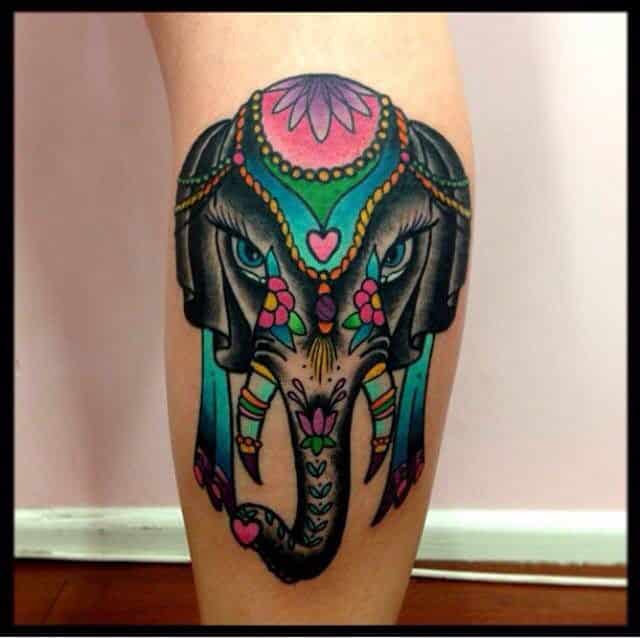 This American Traditional tattoo depicts an Old School style elephant. The elephant wears a mandala embroidered headdress and is adorned with hearts, flowers, and bright colors. She has heavy lashes and bright blue eyes, and emanates a soft prettiness.
This elephant tattoo features the image of a large elephant head and tusks that reaches from the top of the shoulder to just above the elbow. The elephant is inked as if sketched onto the arm with a pencil. It is heavily detailed and lined, making it appear wise and wary.
This Dotwork tattoo is a graphical line work impression of an elephant head that rests just about the inner wrist. The elephant's head is outlined by a continuous, jagged thin line, and her ears are filled with expertly executed Dotwork. This is a great elephant tattoo for men looking for something a bit more abstract.
An elephant riding a unicycle stretches across the side body in this New School style tattoo. Ravens on strings are tied to the elephant, and flap above him as he rides. Across the bottom of the unicycle, a banner reads "Elevate" in Gothic gradient text.
This calf tattoo features a realistic styled elephant. The elephant is inked in black and white, and stretched from just beneath the inner knee to just above the ankle. The piece is incredibly detailed and well shaded, evoking a feel of New School meets Illustrative tattoo style.
This is a great sleeve tattoo idea for guys looking to incorporate an elephant into their arm piece. This tattoo is a beautiful piece of Dotwork, Blackwork, and shading. Swirling henna inspired mandala patterns cover the arm and top a beautifully shaded elephant head whose keen eyes peer from just beneath the inner elbow.
This Oriental styled New School tattoo features an elephant decorated with rose blossoms, clouds, and henna inspired pieces. Behind the elephant stretches strong but simple strokes of Blackwork that help make the piece pop as it stretches from the elbow to upper shoulder.
An elephant head takes center stage in this tattoo for men. The elephant is depicted in New School tattoo style, and detailed with lining and shading. Banners frame its face, reading "Credi Nei Sogni" (Believe in Your Dreams) in cursive text.
More elephant tattoos for guys on the next page…