The staggering pain of getting a tattoo on the elbow immediately dissipates upon the awe-inspiring beauty of this tribal design. A myriad of shapes, styles, lines, curves, and patterns are incorporated into a single masterpiece seen right on this guy's elbow.
Roses are red, violets are blue, but in this tattoo ideas for men, it's definitely purple and yellow. Shades and hues of the two colors have been carefully blended and laden on the complexity of the petals, while green leaves enhance the image.
A ship's wheel looks quite gorgeous on the elbow with its realistic look, the glowing red center and the elements of wood quite visible. Right below it is the image of an anchor which altogether produces a one-of-a-kind nautical scene.
The Aperture Science logo is heavily and elegantly inked around the elbow, and its circular form works perfectly on this part of the body. Each triangular shape is boldly filled with the brilliance of black. This tattoo appears very aesthetic and easily recognizable with a neat and clean look.
An eye for an elbow, where it appears gloriously in place. The realistic looking dark pupil seems to stare right at you while a number of rays flow out of it and gives off light that radiates all around the eye.
A crescent moon depicts the center of this black and white elbow tattoos for guys. Created around it is a complex, shaded outline of a web that extends downwards, where it is ultimately attached to a highly detailed, large hairy spider.
This tattoo shouts fierceness in beauty upon displaying the image of a raged bear with eyes red, mouth wide open, long fangs and sharp teeth all revealed. Its nose rests and perfectly fits on the man's elbow while the image is heightened by massive muscles.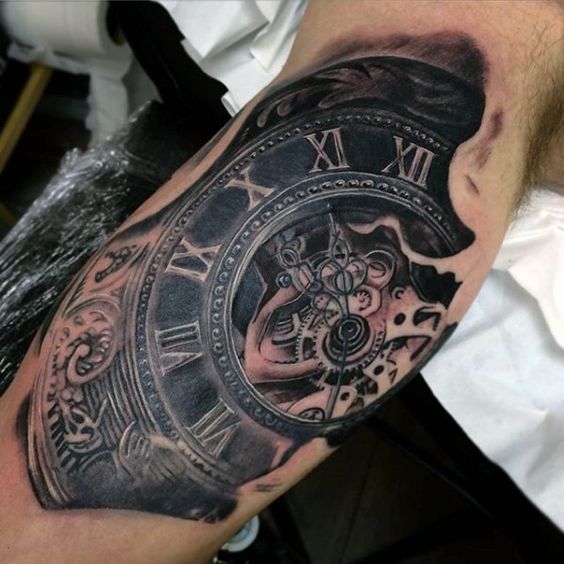 Rustic look with undeniable class and style, this black and white tattoo instantly creates a lasting impession. A lovely vintage clock bearing roman numerals and intricate workmanship surrounds the man's elbow where the two hands of the timepiece are found.
Inked on the inner elbow is a gas mask that's been illustrated down to the last detail. The lenses, valves, and tubes are exquisitely made and given depth along with rich texture, infused with the combination of black and grey tones.
One of the most compelling tattoos ideas is this work of art tracing its roots from the elbow. A star radiates a glowing outline, followed by varied ornate patterns and styles one after the other and goes all the way to the wrist.
More elbow tattoos for men on the next page…