The dragonfly in this tattoo has a real design of a dragon. The dragon is applied with some tribal effects, making it super classy. With this design, the tattoo carries a deep meaning. Regardless to what it symbolizes, this is a unique tattoo to apply.
This is another tattoo design that has a simple design, but could also carry a deep meaning. It is applied to the leg, so the wearer might be dedicating it to his daily walk of life. Also, the tattoo is meant to be personal, since it is almost invisible.
This one is also simple in its design, and it comes with only two colors. The wings have a light green color while the rest of the body is black in color. It might be applied to symbolize good luck or prosperity.
This is among the tattoos ideas that carry a deep meaning. The dragonfly is applied with a skeletal structure, along with a tail that has a strange design. The meaning might be offensive to others, so be sure of the symbolism before you apply it.
The dragonfly applied in this tattoo comes with the design to a butterfly. There are also flowers that compliment it and make the entire tattoo bright enough. The meaning could be linked to prosperity, good luck, or a specific friendliness.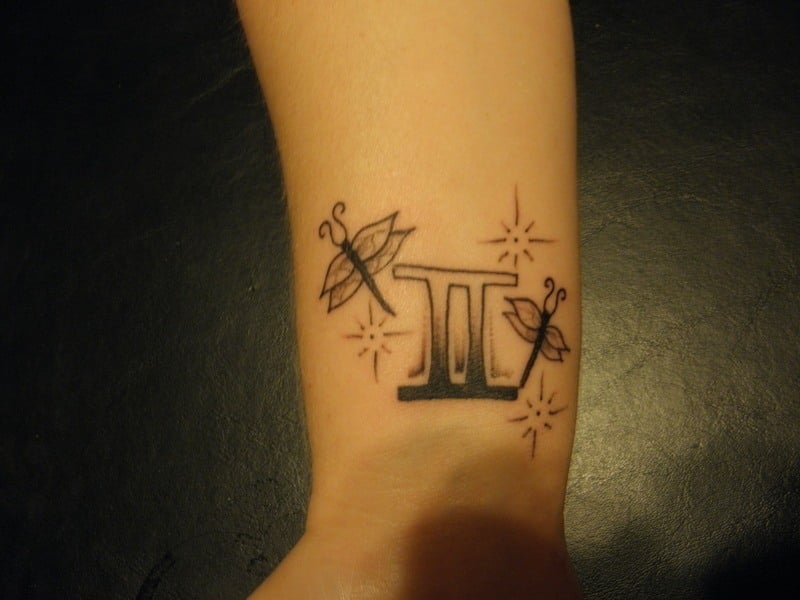 This dragonfly tattoo design features two dragonflies flying around the roman number two. The art is not too intricate but still looks very stylish. The tattoo's look is rounded off by star details around the calligraphic roman number two. There is not too much of shading except for the dark dragonflies.
Done in purple, this tattoo is an intricately done dragonfly with an elegantly curved tail. There is a lot of attention to detail on this tattoo with its abdomen and wings. It is simple yet elegant enough and perfect for a first tattoo.
This is an exquisitely done dragonfly tattoo. The wings have been colored delicately with colorful spots on the edges. What is intriguing about this tattoo is the shadow effect done under the wings to give it a wonderful 3D effect.
This dark dragonfly tattoo design is bordered with purple shades. The tattoo has a somewhat emo theme that is ideal for you if you are looking for something dark and purple. It features exquisitely patterned wings and a slim, dark body. Written on the edge in simple calligraphy is the word "River".
This is one of the more masculine designs. The reason why this is an ideal tattoo design for men is its bold and monochrome nature. There is minimal shading around the edges. This design is a bit more realistic with more attention paid to detail.
More dragonfly tattoos for guys on the next page…