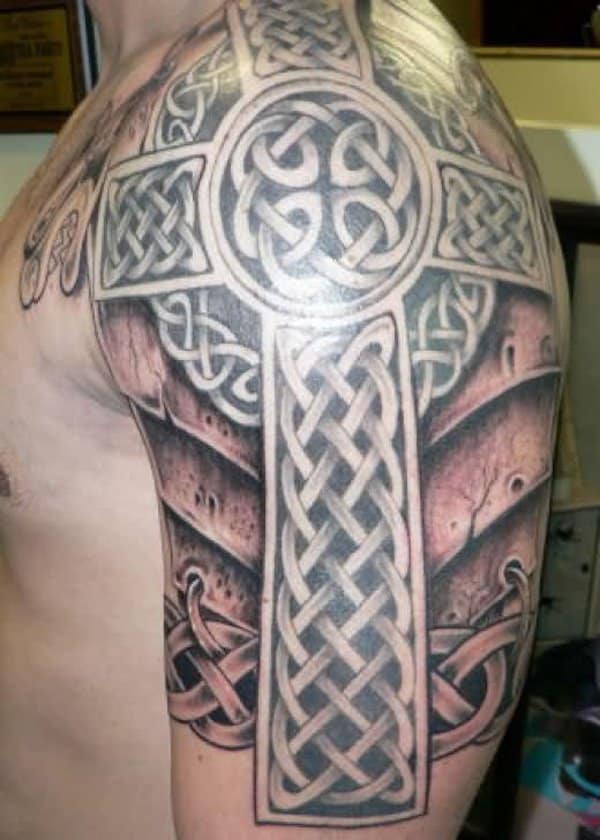 Modern and artistic, this graphic Celtic tattoo idea looks stunning! Notice how the hooks and knots used in the design all fall in the right place. Also of interest is the complex nature of the design which expresses the continuous seasons of life.
This shows a 3D Celtic knot tattoo imprinted on armor; the skin is depicted as torn revealing the armor perhaps to symbolize the courage and strength of the wearer.
This large Celtic cross tattoo looks amazing on the middle of the back with wings spread out as if depicting freedom. Twin scrolls cover the lower part of the back providing ample space for creative inscriptions.
Small but conspicuous, this Celtic wedding ring tattoo can be seen from a distance is best suited for men who want unique yet simple Celtic tattoo ideas. Note that the knots symbolize the endless cycle of life in Celtic culture.
Needless to say, this Celtic tattoo for men looks stunning. It depicts the legendary tree of life which symbolized an ancient philosophy common to many mythologies and cultures. This tattoo may be used to depict the balance between the inner and outer personalities of the wearer.
This Celtic tattoo mainly features Celtic knots that have been artistically placed to create an impressive effect. The spiral design and use of thick lines lends symmetry as well as flow to this creative piece of art.
Appealing to the eye and laden with symbolism, this tattoo of the Celtic tree of life is a representation of the link between heaven and earth. It can also be seen as a symbol of purity or balance. Notice how magnificent the tattoo looks on the middle of the back.
A unique Celtic tattoo idea inspired by the Celtic culture shows a sophisticated design with a four-leaf clover as the center piece. Realize that the Celts revered the clover mainly because of the trinity of its leaves.
This tattoo exhibits splendid 3D effects with shadows and colors used to enhance the symbolic meaning of the whole design. Note the cyclic nature of the tattoo used to symbolize the continuity of life and the swirls synonymous with Celtic tattoos.
This Celtic tattoo for men looks fabulous on the wearer. Plus, when you delve deeper and discover the meaning and symbolism of this design, you might just find it even more irresistible. Notice how the tattoo emits an otherworldly aura?
More Celtic tattoos for men on the next page…