If you love Elvis, choose this tattoo! This inspired idea showcases Elvis towards the left of the design, complete with a Mel's sign, a silver microphone, and musical motifs. These black and white images encircle the central image, the classic red convertible, in full color. Red accents at the left and bottom of the design add unity.
This black and white car tattoo features a heavily inked, shiny vintage car going down a road while money flies out through the back of the open trunk. Red tail lights provide a pop of color while lightly sketched power lines on the right of the image give a sense of structure.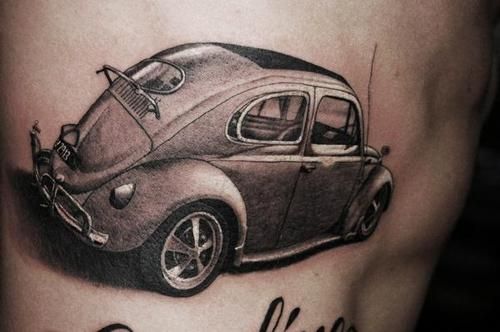 This subdued black and white tattoo is perfect for smaller areas and features a vintage car with slightly smudged ink on the left and deeper hues on the bottom and sides. It shows great attention to detail as the car comes complete with an antenna, a license plate, and a clearly visible interior with steering wheel.
The ideal antidote to nostalgia, this tattoo is great for larger areas. It depicts a retro style car in black and white with a red grill parked on a rocky road. Beneath this, a black and white Route 66 sign is shown, and the image is complete with rolling hills and a windmill in the distance.
Graphic, bold, and original, this black and white tattoo features just one thing—the grill of a Jeep. In the same heavily-saturated black hue throughout, the grill is complete with circular headlights which are without ink and allow the natural skin tone to become part of the design.
Depicting our favorite classic convertible, this image illustrates it in black and white and slightly distressed. The stormy black and gray shadows around it give a sense of motion to the design and also lend an air of mystery.
This simple car tattoos idea is ideal for small to medium areas like the forearm. It features a side view of a vintage car in black and white with artfully smudged ink lending a sense of fluidity. The wheels and windows on this design are especially life-like, and the hues are well-blended to give a shiny appearance.
Here, a classic car is seen from the left side. Again in black and white, the car is given a grayish hue with a nice shine. Shadowing is used underneath the tires to make it appear to be resting on the ground. This tattoo design is ideal for medium areas like the upper back.
Perfect for NASCAR fans, this simple black and white design features the NASCAR logo beneath a fluttering checkered flag. It's a good choice for smaller areas.
Made from a photo, this design would be a fitting memorial for a loved one. In black and white, it features a retro car and license plate, illustrated directly from a photo. Beneath the car, a flowing banner lists birth and death dates to complete this lasting tribute.
More car tattoos for men on the next page…