This colorful arm tattoo depicts the Blue Jay amid a leafy branch with red cherries. The bright colors of the bird make it the center of attention. Depicted in mid-flight, it symbolizes a sense of freedom, piercing intelligence, and shrewdness.
This black raven chest tattoo depicts the bird in mid-flight. It is a free, intelligent bird, often believed to possess the ability to tell the future. The careful detailing brings the aerial creature to life, as each large feather is made clearly visible.
This incredible black-ink neck tattoo shows the bird flying freely. Its stylized depiction as well as careful detailing ensure that the design is an eye-catcher. Moreover, the splendid bird represents freedom of the mind and body.
This captivating design is one of the best tattoos idea out there. Unlike the mainstream flying bird, here you see the little black silhouette on the ground. Placed perfectly on the wrist, it is sure to make anyone fall in love.
For those of you looking for elaborate bird tattoo ideas, this is your lucky day! This arm tattoo is done in black and shades of gray. It depicts the dove in mid-flight along with a clock and some roses. It therefore represents eternal love, loyalty, and of course, peace.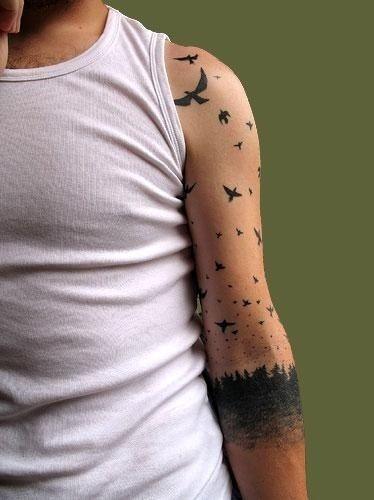 There is no denying that this bird tattoo design is among the best out there. Beginning just below the elbow, you see the silhouette of a forest like an arm band. From this emerges a flock of birds all the way up till the shoulders. Even as the black ink looks stunning, it is the composition that is mesmerizing.
This wonderful tattoo depicts three beautiful flowers and a bird. Despite the splash of color in the flowers, the shades are dark enough to inspire a wonderful contrast with the skin. The bird, however, is detailed in black, with every line carefully inked. It stands for freedom and love.
If you're tired of the mainstream bird tattoos for guys, perhaps it's time to try something different – like this. Merging art with reality, it contains the perfect balance between the soft colors and black lines. Even as the head and body are carefully detailed for a realistic appearance, the wings and tail are created with artistic black strokes, making for a truly enchanting creation.
Depicting two birds in flight and a third leaving its cage, this predominantly black tattoo is the perfect representation of modern life. It shows the need to break free, for only then will you truly soar, traversing the skies of success. Moreover, the splash of red in the black design creates an entrancing composition.
If you're looking for a great bird tattoo for men, here it is! With three silhouettes, it is is a simple design. The beauty comes from their wings, for each is a different shade of color. Moreover, it is these bright shades that ensure that the entire composition looks spellbinding.
More bird tattoos for guys on the next page…