This tattoo design employs the use of multiple colors to make the whole tattoo a work of art. The tattoo is of several images on each arm and the upper chest. Different colored birds and bird feathers are drawn on the arms, these include an eagle, peacock, flamingo and a sparrow.
This tattoo idea is especially ideal for the man who wants something simple. The tattoo depicts three little black sparrows flying about in the air. The detail of this tattoo has been put into the wings of the sparrows which show that the birds have very fine wings.
This tattoo is of a sparrow that appears to be flying in midair, trying to perch on something that is invisible. A lot of detail has been put into the bird to show different shades of its feathers to show different parts of its body.
This a fantastic tattoo idea for guys given that it is very elaborate and detailed, and most suitable best placed on one's back. The tattoo depicts three birds. One of the birds is placed right at the center and is drawn in dark shades of blue, pink and black. A mountain is shown to be far off behind it. The two other birds are just below it.
This is one of the simplest bird tattoos for guys that one can get. The tattoo consists of images of four black birds flying in midair. The tattoo is best placed on someone's side which can be used to effectively show the difference in distance from each other of the birds.
This bird tattoo idea is ideal for men who love a splash of color for their body art. This bird tattoos are of several images of birds placed on both arms and the chest. A tattoo of a bright colored eagle is placed on the chest while the arms have different kinds of multicolored birds.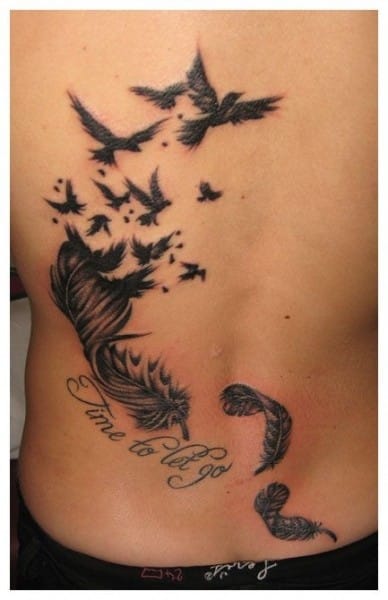 This tattoo embraces a black and white theme although it is mostly black. The tattoo shows a few feathers that have been randomly placed. The tattoo depicts that some birds are flyig from one of the feather's end. The words, "time to let go", have been written below the largest feather.
This is a very simple tattoo which is most suitable for the men who want something simple on their arms. The tattoo is a rather colorful image of a bright red bird carrying an arrow. Below the image, the words" May then odds be ever in your favor", are written.
This bird tattoo is ideal for any man who wants something on their chest that best speaks out about their masculinity, their aggressive yet gentle nature. This simple tattoo is of an eagle which appears to be flying. Only the eagle's outlines are shown without any further color used.
This is a very simple tattoo of a little bird. The little yellow bird is perched on a twig. The bird's underbelly is yellow in color while its wings are a varying shade of light brown.
More bird tattoos for guys on the next page…