Some tattoos are an incorporation of perfect shading and detail. Such is an example. This tattoo drawing brings out clear detail through the shading. It is a perfect one for the back, going by its size, and is a great show of significance of the child.
This tattoo design is a creative and illustrative use of many colors of ink to come up with an image that looks like the feet of a child. This is a deep fusion of concepts, aimed at expressing creativity and artistry in tattooing.
This tattoo represents a portrait of a child drawn on the upper arm. The portrait has a perfect shade of black and gray. Beneath the portrait is the name of the child. The tattoo is an indication of the happiness of the child, and how dear it may mean.
A tattoo design may as well as depend on the religious beliefs and affiliations you may have, this tattoo is a representation of faith, and how it is expressed through the child. It shows the child with the angel like features.
This tattoo is a demonstration of art. The portrait of the child has been perfectly replicated on one's arm. How awesome is that! Such portrait tattoos show love and admiration for the loved ones. The tattoo portrait is created by the use of fine line drawing.
Such a baby tattoo is a demonstration of the use of the creativity of the tattoo artist to bring out various concepts associated with the child. Such a design is nice as it brings out more than one message. This involves the use of colored ink.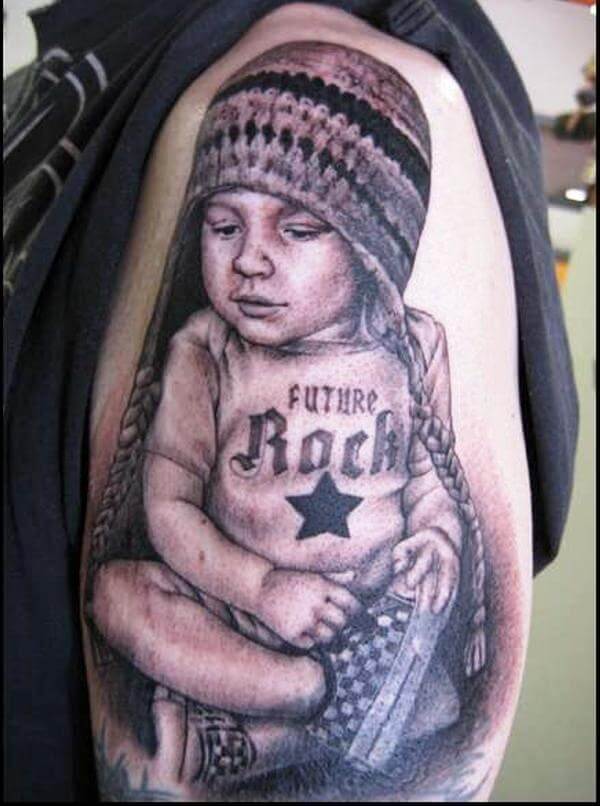 This tattoo is an image of the full body of a child, perfectly drawn and shaded. The detail itself is magnificent. Such a realistic kind of photo requires a tattoo artist with great talent and therefore one should be picky.
Black and gray shaded portrait tattoos can be very complicated and difficult to pull off. It requires intense skill and perfection. This, however, has been perfectly tattooed on the lower arm. It entails a nice blend of full details of the baby portrait.
A guy could decide to have such a portrait tattoo of his child on his upper arm as a way of showing appreciation, love, and acceptance. This portrait of the child shows only the head shot with no background.
This tattoo image shows an up-close portrait of a child. The image has been drawn to perfection, with the black and gray shadings clearly coming out. This can be seen through the hair, and eyes, among other aspects.
[the_ad id="18525″]