An hour glass tattoo showing a baby curled up in the top half of the hour glass and an upside down skeleton head in the bottom half of the hour glass. A cord coming from the baby and entering the Skelton's mouth. There are also inscriptions at the top and bottom ends of the hour glass.
Baby tattoos like this are creative. This one shows a baby's face on the palm of a hand. This is the simplest looking tattoos but so beautiful. It the perfect tattoo. The eyes and mouth of the baby are open with 3 figures looking disconnected from the hand.
A black-white image of a pectoral tattoo of a locket clock just beside a baby's footprint. The footprint is well black shaded. Inscriptions are placed at the top of the locket clock and footprint. There is bead-like rope coming from the top of locket clock
This is an awesome tattoo of a baby putting on a hat and some inscriptions just below it. The tattoo has sort of a greyish black color shaded into it. The tattoo only shows the upper body of the baby.
This is the most unique tattoo ideas so far. The image shows two baby shoes with inscriptions, "Lewis" at the top and "29.01.2012" just below the shoes. Both inscriptions are beautifully written on a ribbon. One shoe seems to be resting on top of the other.
Here, letters and fonts have been interestingly drawn lo look like the foot of a baby. The toes of the foot have been represented by the date of birth, with the rest of the foot containing information such as the name of the baby.
This baby tattoo is of a baby sleeping on an arm, with the better part of the face on the palm. At the bottom of it, there is an indication of the name of the baby, which is Joe, and the date of birth. It is a black and gray shading, clearly bringing out the image of the child.
This is a gray wash baby tattoo design, which is an image of a baby who is asleep, in seemingly what looks like clouds. The baby has wings, which brings about the notion of the innocent nature of the baby.
Drawn on the whole chest, this baby tattoos idea is a fine line piece of work of a sleeping baby who has the mother's arms touching it. It is a simple design, especially for those who do not fancy shadings.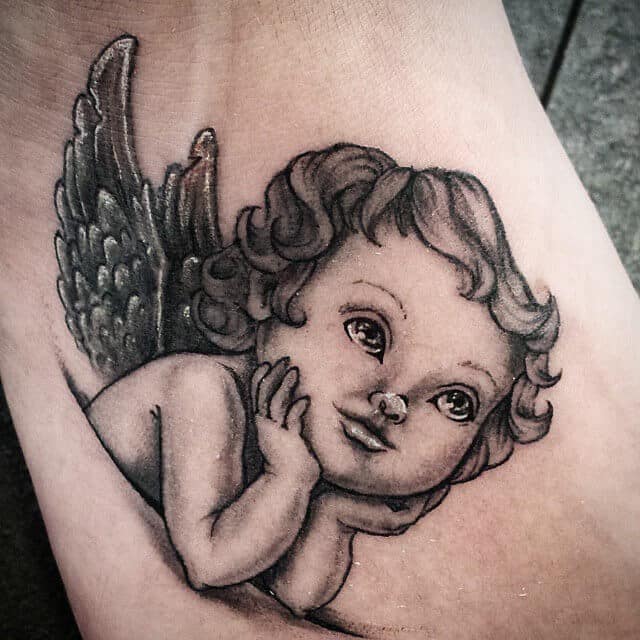 Among the many tattoo ideas, this tattoo clearly draws inspiration from the desire to bring out the innocence that a child has, as can be seen via the wings that the child has. It is based on black and white shadings.
More baby tattoos for men on the next page…