This is a creative well colored tattoo showing a baby's face having a mustache and the inscriptions of Daddy's at the top of the face image and LOVE at the bottom of the face image.
The tattoo is located on the inner arm between the elbow and the wrist.
A well shaded tattoo of a baby's hand above an inscription "Alessandro" and a set of numbers below the name, "080428". The hand of the baby has the finger well spread apart. The inscriptions have a light black shade around them.
This image showing two sets of legs with the bigger legs having a baby's footprint tattoo on the top of the feet. The footprint tattoo is shaded black. The little toes are disconnected from the tattoo footprint except the big toes.
This another pectoral tattoo with a baby's handprint above an inscription. The calligraphy in the inscription is just beautiful and is just resting above the nipple. The thumb of the baby's handprint seems to be disconnected from the actual image.
Another pectoral tattoo of two baby footprints with an inscription of a name, "Hannah Jane" above and inscription of numbers below, "01-23-2015". Except the big toes, the other toes are slightly disconnected from both of the baby's footprints respectively.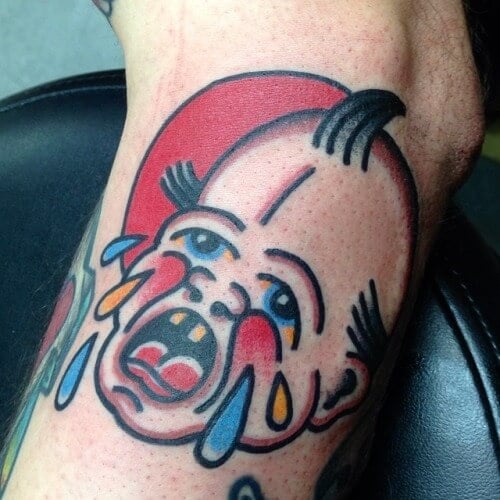 A well colored baby face tattoo showing the baby crying with a red colored half circle on one side of its head. There are two tears colored orange and the other two tears colored blue. The tattoo image shows hair only on the two sides and top of the baby's head.
This is a very amusing cute baby tattoos idea showing an image of a baby wearing small boxing gloves. The baby tattoo shows the baby holding the devil's fork with little devil horns on its head. The baby in the tattoo is standing and wearing only small shorts
An inspiring arm tattoo showing two baby footprints below an inscription, "Some people only dream of angels, we held one in our arms. Left and right footprints are drawn with the little toes detached from each main body of the footprints.
Very nice tattoo of two handprints above an inscription, "Angelyce Landeros 01-10-10" and two footprints below the inscription. This side abdomen tattoo covers more than half of the side abdomen. Both the footprint and handprints are of the left and right variants of the prints respectively.
A simple nice baby tattoo idea of a sleeping baby showing only the upper body covered by a wing. An inscription of a name is just paced underneath this image. The Image is dark shaded at the edges giving it a nighttime look.
More baby tattoos for guys on the next page…