This tattoo image is made for the strongest ones. It's all there: the severity in black color, the order in the sharp shapes, and royalty in posture. These are all the characteristics of Hermes, who had marked another tattoo, thus creating him a fine choice for a symbolic tattoo.

Another classic ankle tattoo, a wing. Again a great reference to the ancient Greece, where gods walked among men. This one is portraying justice, it is portraying strength, and it represents freedom. A very strong tattoo design, indeed, not anyone could wear it.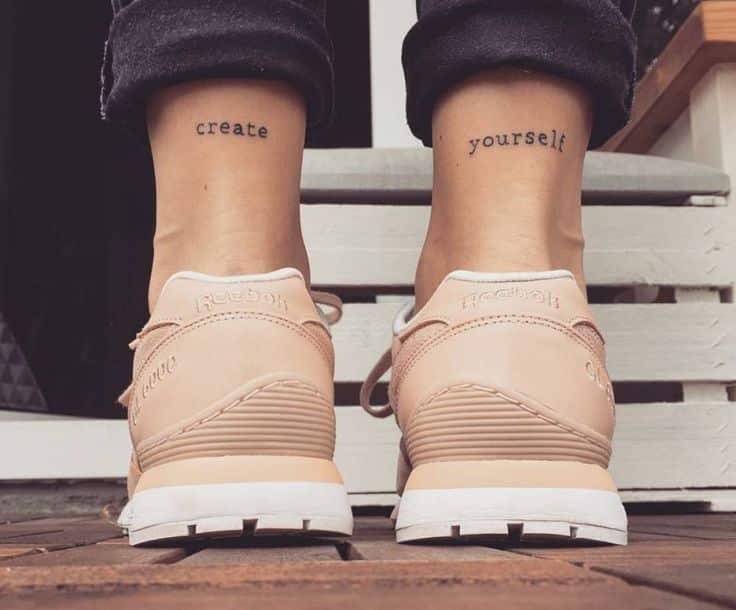 This tattoo design is a minimalist pearl. Actually, it's so minimalist that you might not even notice it. However, the tattoo for men idea of small notes and messages, is indeed made for a man that is man of word, who knows how to read small notes that life is giving us.

Fish tail that dives into the water is a fine witty tattoo. However, it's the design that makes her the most interesting because of the meticulous way they have been drawn. Again, we have the good repetition, and variety of shapes that lead us into this mysterious fish.

An ankle tattoo design, which beauty is hidden in minimalism. Shapes are highly symbolic, and they represent the wholesome of life, and its circling. The anchor is there to stop it and to mark a special point in the circle. A special point would be a nice chance to do a symbolic tattoo like this.

These ankle tattoos feature ink that is on the front of the leg facing out. "Run fast" is inked on this guy in black ink with room left in between the lining. This tattoo would be a disaster in other fonts, but the cursive and the color makes it a decent ankle tattoo idea.

This ankle tattoo features a rosary. It's one of those tattoo ideas for men that will definitely intrigue you if you are religious. Basic dark ink and a link around the ankle with a cross hanging from it is simple but well done and looks great on just about any guy.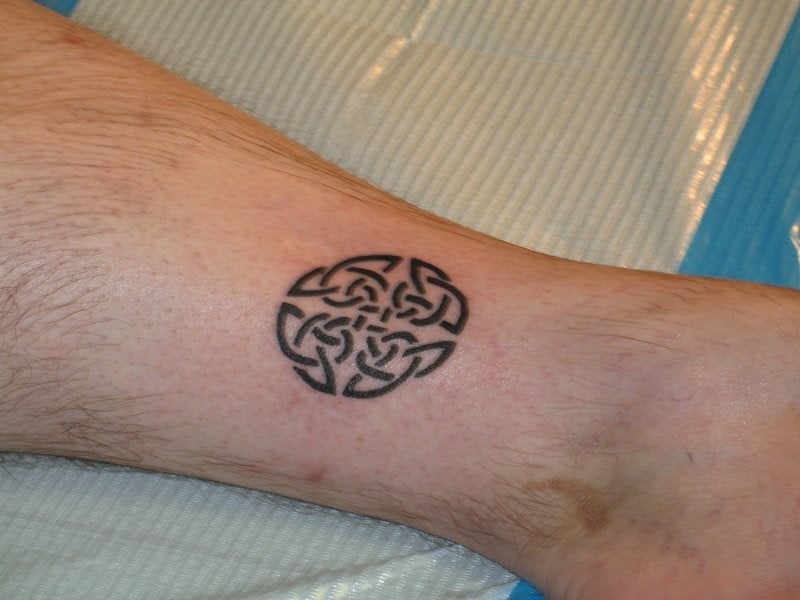 This ankle tattoo is a Celtic Shield Knot. This knot is an ancient symbol of protection that was placed on battle shields or near sick people to ward off danger or evil. The four cornered knot is a traditional Celtic symbol that is a great way to honor your Celtic ancestry and is believed to invoke the gods' protection.

If you're looking for simple ankle tattoos for guys, why not go with a geometric shape? A simple outlined triangle on the ankle is cool and doesn't even particularly symbolize anything. Either way, you'll look punk rock with this triangle outline tatted there, and you can always fill it in.

Looking for cool tattoo ideas? Why not try out a star? This tattoo features a black star with Celtic knot inspiration and a circle embedded with alternating black triangles. It's visually striking and will get you a lot of compliments too.
More ankle tattoos for men on the next page…